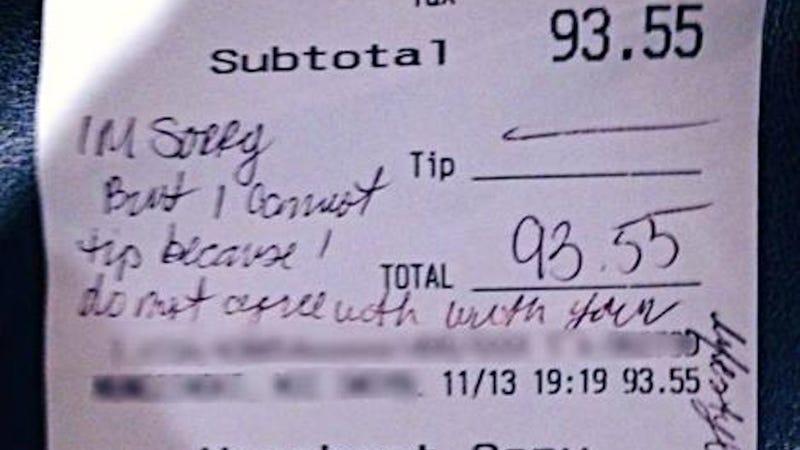 A waitress who collected thousands of dollars worth of donations from well-intentioned internet denizens after a picture of a receipt allegedly containing a homophobic note that actually turned out to be fake went viral promised to donate her ill-gotten gains to charity. Except it now looks like she kinda lied about that, too.
It all started last month, when a 22-year-old New Jersey waitress named Dayna Morales posted a photo of a receipt to Facebook's Have A Gay Day community. On the credit card receipt, which was for a $93 food bill, the customers left no tip, but did leave a note about how the waitress's "lifestyle" offended them. The waitress is gay. This was an anti-gay receipt.
Sympathy poured in, and people began began sending Dayna money. Thousands of money. Money out the wazoo. This was shaping up to be a heart-microwaving holiday tale of acceptance that Macklemore was probably already writing a whole album about.
Except it wasn't. It was all fake. The couple who allegedly stiffed Dayna said her story was fake and produced evidence that they'd tipped her in the form of their receipt copy and their credit card statement. Oops.
To right things, Dayna, a former Marine, pledged to donate all of the money she'd gotten by tricking people into thinking she'd been victimized to the Wounded Warrior Project. Which, I guess, is better than a kick in the head.
This was weeks ago. And the Wounded Warrior project hasn't gotten a donation from anyone who sounds like they might be Dayna. From Consumerist,