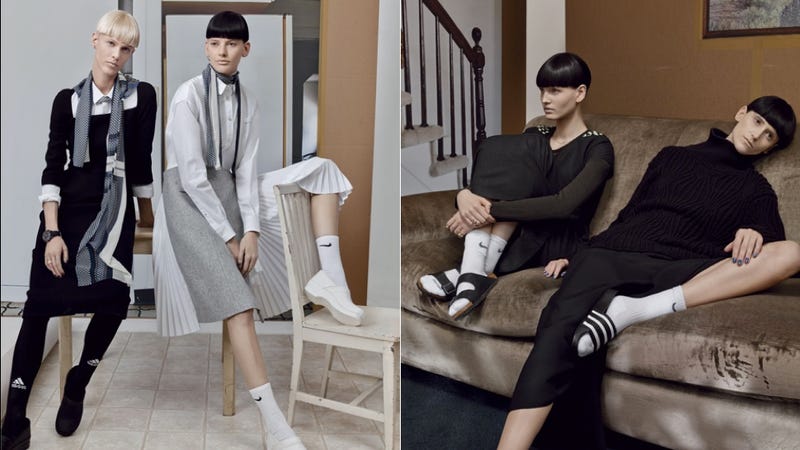 In its brief tenure on this planet, the concept of "normcore" riled up every fashionable person (including, or especially, Blake Lively); inspired a fleet of quasi-ironic think pieces; and then, as an fun Internet meme to reference on Twitter, it sort of got supplanted by "¯\_(ツ)_/¯". All of which means that it's high time for a big fashion magazine to jump in and do a normcore spread of its own.
And here we have it, ladies and gentlemen: it appears in the August 2014 issue of W, it is called "Banal Plus," and it's rife with bowl cuts and Adidas socks. "Why be normal when you can be normal and then some?" it asks. In other words: why dress up like a pleb because fashion when you can dress up like a pleb because fashion, only in exorbitantly expensive clothing because HIGH FASHION?
As outlined in the amazing, baffling The Cut piece in that launched this entire fashion-debacle, normcore's practitioners proclaim that they intentionally court sameness as a way of "absolving oneself from fashion, 'lest it mark you as a mindless sheep.'" Which, you know, only works as a ~fashion statement~ if everyone can tell that you're affluent and hot and stylish enough to have made a conscious fashion choice: i.e., "I'm wearing lumpy jeans and a fleece because I know all about designers and shit and I'm sooooo OVER IT, not merely because these are comfortable garments within my budget that fit me."