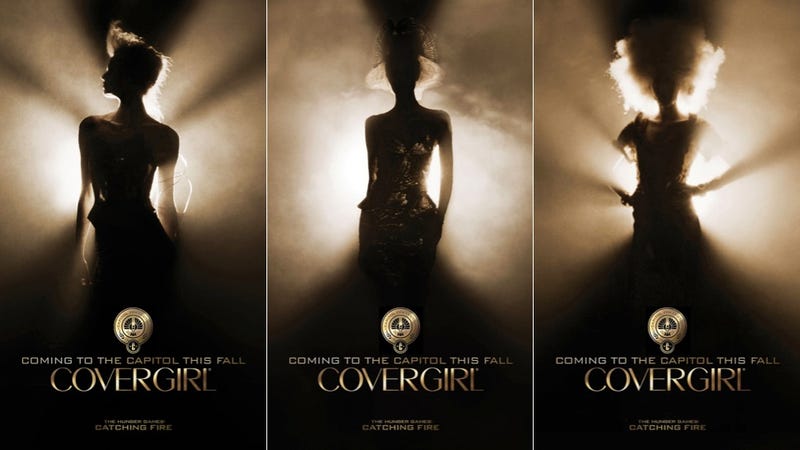 What screams "beauty products" more than kids being forced to kill each other?
Today, CoverGirl announced its sponsorship of The Hunger Games: Catching Fire. While reading the book, one might be revolted by the residents of the post-apocalyptic city known as The Capitol — the headquarters of an intensely brutal government — and their over-the-top flamboyant, extravagant style. And yet! Cover Girl sees the movies as a $ales opportunity.
From a press release:
With The Hunger Games: Catching Fire partnership, we wanted to redefine cosmetics' relationship to film with a fantasy-meets-reality beauty experience," said Esi Eggleston Bracey, VP and General Manager, Global P&G Cosmetics. "The film inspired COVERGIRL campaign coming out this fall truly will bring beauty transformation to life in an aspirational, dramatic fashion. All of us at COVERGIRL were captivated by Suzanne Collins' novels and the first film, so we're thrilled to collaborate with Lionsgate on such a bold beauty partnership with the release of The Hunger Games: Catching Fire."

"We are excited to announce COVERGIRL as the exclusive makeup partner for The Hunger Games: Catching Fire," said Paula Kupfer, Lionsgate's Vice President of Promotions and Consumer Products. "The exquisite beauty and style in the world of the Capitol is a focal point of this film. Partnering with an innovative brand like COVERGIRL to create an additional layer of beauty storytelling and inspiration for the fans is new territory that we're delighted to explore."
Right, sure, aspirational. Okay. With the first film, there was a Capitol Couture Tumblr, a focus on shoes, and an OPI nail polish collection. Now, in addition to more couture, it looks like there will be eye shadow, lip gloss, blush, who knows.