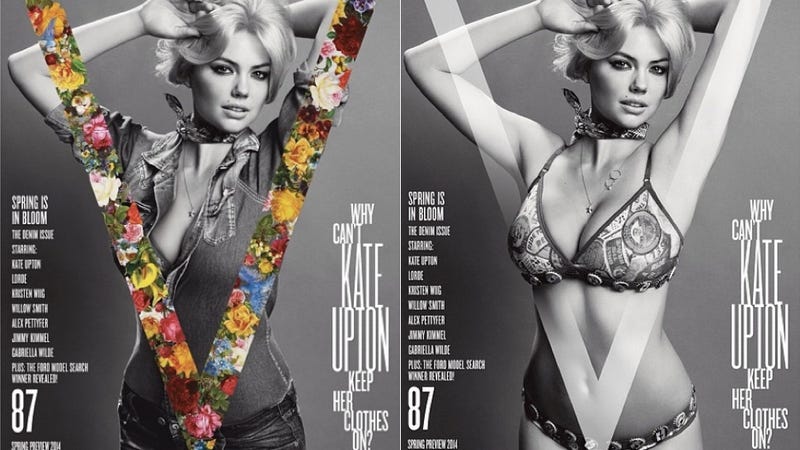 "Model. Actress. Icon." V Magazine is celebrating "the year of Kate Upton" by putting the model/actress/icon on their cover and asking "Why Can't Kate Upton Keep Her Clothes On?"
While the images displayed above make it look as though the cover comes in two versions, it's really one image of Upton wearing all Nicola Formichetti for Diesel (he styled the shoot as well) that peels back to reveal another more naked Upton ("order our V87 Box Set and get three big reveals: V87 with acetate overlay, a heat-activated mug, and our retro slider pen—three ways to expose what's under Ms. Upton's clothes!" says V). V's editor Stephan Gan told Women's Wear Daily that he wanted Upton for the magazine because she's "become a bigger and bigger star, and her physique, more and more notorious," adding:
It has always intrigued me, as I'm sure it has to most readers, how someone gets embraced by the general public for taking their clothes off and loved by the fashion world for keeping them on.
It isn't some big secret why Upton has managed to charm a few different sides of the modeling world: she is beautiful. She also has, thus far, kept her clothes on when doing high fashion spreads because her breasty form isn't couture enough to be accepted if she took them off. Plus-sized models who are featured in high-end magazines are usually either styled completely covered up or totally naked, as if art directors and stylists don't know what to do with their bodies. Kate Upton very well could have fallen into a pattern of being styled nude for high fashion spreads, but she hasn't been because she'd already set up a precedent where her nude body was a thing for men's magazines. Fashion magazines are trying to be edgy by putting her in clothes.
The idea that Upton has been "embraced by the general public" for posing nude is laughable, implying that featuring her body in a few men's magazines (which have long featured women with big breasts) has inspired companies to represent a wider range of forms everywhere. Despite the fact that the Victoria's Secret ideal appears so similar to the men's magazine look, Upton has been famously rebuffed as an option for that brand, which markets itself largely to women (not that men don't enjoy it too), trying to sneakily use her image only when it seemed like it might be financially viable.