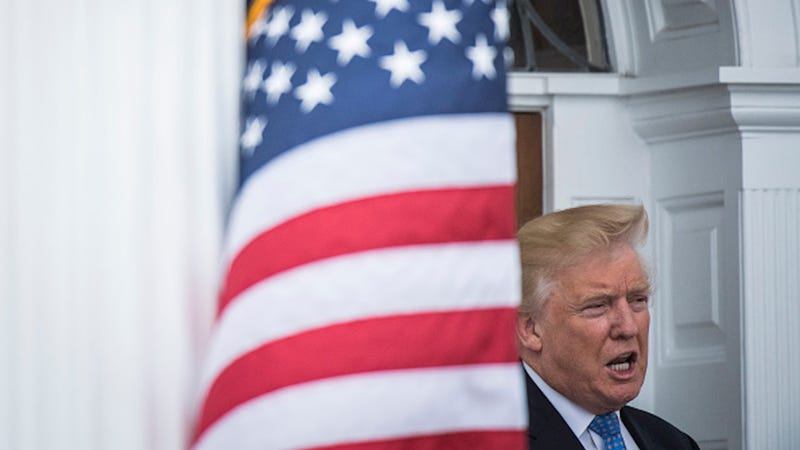 President-elect Donald Trump, a radioactive double chin with a Twitter account, has demonstrated time and again that his skin—though infused with neon bacteria—is perilously thin. And now, as Hillary Clinton's popular vote steadily eclipses his own, and as Green Party presidential nominee Jill Stein begins submitting recount petitions, Trump's insecurity has lapsed into freewheeling madness. He has actually declared, without a scrap of evidence, that he only lost the popular vote due to voter fraud.

And because our next leader of the free world sees fit to air his many petty grievances on Twitter, that is where he made this absurd claim.
Keep tweeting, Trumples, I'm sure your buddy Vladimir Putin is reading with steadfast devotion—along with a vast swath of other, well-meaning characters.
As the Daily Intelligencer reports, Clinton's popular vote count so far exceeds Trump's by 2.2 million. For there to be such breadth between each candidate's vote totals—and for the votes to be so squarely in Clinton's favor—cause many to doubt Trump's mandate. How could someone so lacking in the people's support rightfully assume the presidency? Clinton's significant lead moreover indicates that her political agenda appealed to most of America and that, under the circumstances, Trump and his band of bigots do not have just cause to implement theirs.
Of course, Chas Danner from Daily Intelligencer reminds us that Trump howled about election rigging long before November 8. These remarks always struck me as a sort of rhetorical insurance policy: if he lost, well, didn't he warn us from the beginning that everyone (the media especially, but really, everyone) was plotting against him? He even implied that he would not accept the election results unless a.) he won or b.) Clinton beat him via transparent and legitimate means. (It's unclear what litmus test for legitimacy the Trump campaign would have demanded.)
It should come as no surprise, then, that Trump would revise this script when the country doubted whether he had won fairly. His delusion remains fundamentally the same: victory is certain — the only mystery is who, specifically, has prevented him from claiming it.
But so far, Trump has not been forestalled; he merely cannot tolerate the possibility that his win was not absolute. And as for the possibility that the election results were rigged in his favor? Impossible. Both he and his senior advisor, Kellyanne Conway, have reproached the recount efforts and mocked the Democratic Party for being "sore losers."