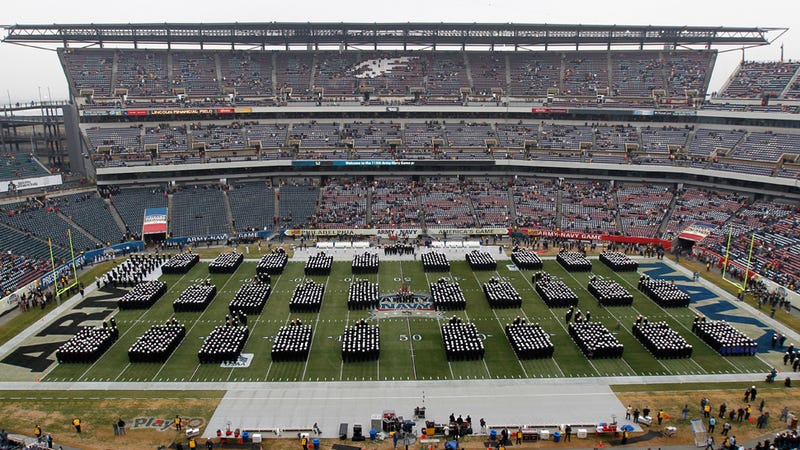 This has been a devastating news month with regards to the military — within the past few weeks, it's become unequivocally clear that there is a sexual assault epidemic in the armed forces. And, as May draws to a close, yet another case has come to light: three US Naval Academy football players are currently under investigation for allegedly sexually assaulting a female midshipman last year.
According to NBC News, the assault allegedly took place in a car last year, and one of the alleged assailants was the victim's boyfriend. The rest of the details are fairly nebulous: the victim initially reported the attack in 2012 — at which point the Naval Criminal Investigative Service launched an investigation — but she stopped cooperating with investigators four months later. This past February, she renewed her complaint.
According to Military.com, Naval Academy spokesman Cmdr. John Schofield has made the following statement:
Naval Academy leadership is monitoring the progress of this investigation and evaluating the appropriate options for adjudication. It is completely inappropriate to make any other public comment on this investigation or any ongoing investigation as we risk compromising the military justice process.
At this point I, along with everyone in possession of a human soul, am so fucking disgusted and saddened and completely wearied by this constant stream of terrible news. Since May 6, two separate military personnel responsible for coordinating sexual assault awareness programs were charged with sexual assault. A third, who was the manager of the sexual harassment and assault program at Fort Campbell, Ky., was relieved of his duties following a domestic dispute. All of this occurred within the course of ten days.