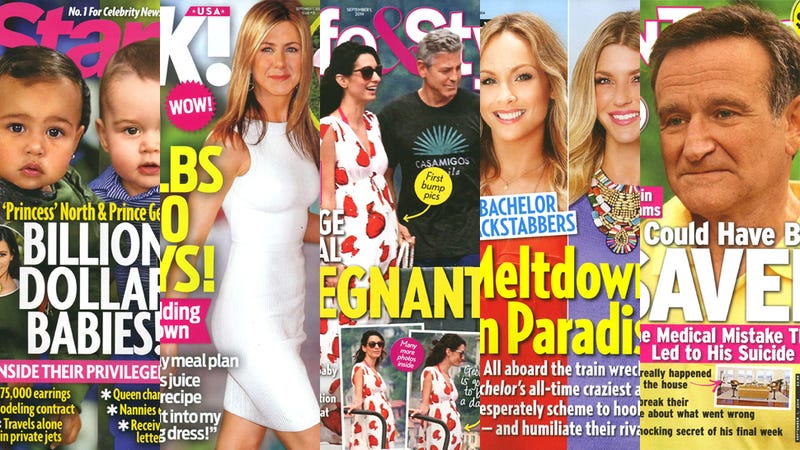 Welcome back to Midweek Madness, in which in which we venture through the hellish landscape contained within the pages of Star, Us Weekly, OK!, Life & Style and InTouch, like the last remaining survivors of a cataclysmic event. This week: Amal Alamuddin AND George Clooney are pregnant; North West's diaper cream costs $2,000 a jar; and InTouch ran an article about Robin Williams entitled "He Could Have Been SAVED." Let's pick through the rubble.
---
OK!
10 LBS IN 10 DAYS!
Jennifer Aniston lost 10 pounds in 10 days, in preparation for her wedding, probably. What follows are some of the most depressing sentences I've ever read: "It's easy to see why she associates slenderness with success"; "Jen is a bit more fun when she's willing to loosen the reins and indulge in a late-night slice of pizza"; "She has a lot of goals that she wants to achieve, and the biggeset [sic] one is getting slim." HELP US ALL. In other weight loss news ( :( ), Jessica Simpson, whom tabloids just finished criticizing for being Not Thin Enough, is now "taking her workouts too far." Says a source, "She has such broad shoulders, with a tiny waist and enormous legs. Her body is starting to look unfeminine." OH, NO. CORPOREAL BLASPHEMY. So, as a "joke," her husband told that she looks like "a running back." "The comment didn't go over well, but everyone is hoping that he was able to get his point across," says the mag. Yes, every person has their hands clasped together in prayer, hoping that Jessica Simpson's husband's criticism of her body will successfully encourage her to attain the specific body type that OK! has arbitrarily deemed appropriate for her. Moving on: Prince Harry is dating a "Kate Middleton lookalike," which in this case means "a rich white woman with brown hair who once wore a baseball cap similar to a baseball cap Kate has worn." K. Aaaand, finally, Katy Perry is talking to a psychic a lot because she's stressed about turning 30. The psychic came recommended from Taylor Swift. This story is the only part of this week's OK! that didn't make me feel like retreating into the cold embrace of the sewer and forsaking human life.
GRADE: F (all life is swallowed by the sea; our orca overlords do not take kindly to us after watching Blackfish)
---
InTouch
HE COULD HAVE BEEN SAVED
InTouch has followed last week's despicable Robin Williams cover story with more of the same fare: in an article entitled "HE COULD HAVE BEEN SAVED," they interview a psychiatrist who has never treated Williams about depression treatments that "could have made the difference," as though his family could have done more to prevent his tragic death from happening. Horrible. Elsewhere in the magazine, the editors chose to run a photo of Jessica Alba's skirt blowing up in the wind, revealing her underwear; they essentially used Kim Kardashian Hollywood as a source while claiming that Kim is firing Kris Jenner ("Kris is nowhere to be seen in Kim's megahit app"), which is not so much gross, like everything else contained in these pages, as it is really lazy; and they printed an article called "Tom & Rita's Marriage Shocker: SECRET SPLIT," about how Tom Hanks and Rita Wilson are still married and not breaking up. But Tom and Rita did spend time apart while he was filming a movie. Uhhh. Okay. And, capping off this week's atrocious content, there's a two-page spread of "celebrity boob blunders" in which both Lindsay Lohan and Kim Kardashian were shamed for "sagging sideboob" and Rihanna's famous see-through dress was ERRONEOUSLY treated as a fashion mishap. Uuuuuugggggh.