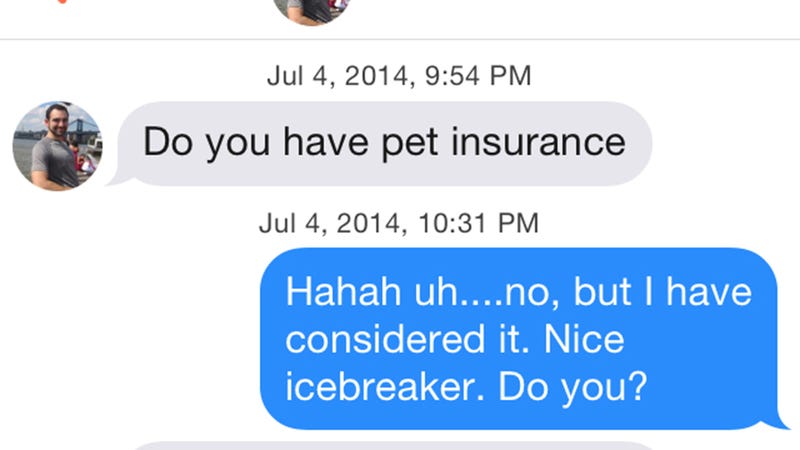 Spoiler alert: This is bad. Gross, dude. Just gross.
I'm an insomniac, so I often browse Imgur late at night, laughing quietly at the memes and freaking out silently about the gross pictures people post during the wee hours. Sometimes, though, there's something that starts out seemingly benign but then makes you stop and say "Oh, no no no. Oh god, why would you do that?" This pickup line, which is currently sitting on the front page is one of those things. And it starts so simply, too. Who wouldn't respond to a question about pet insurance? Animal health is an incredibly important issue that everyone should be concerned about!
Here's the posting in full. Gotta warn you, it takes a huge twist to the left about two messages in. A huge gross twist. Dude, why?
Before we get into the discussion of whether this is real or not, I'm going to say that I believe it. Weirder things have happened and this very website has reported on dudes being inappropriate on Tinder and other forms of dating sites/text media in the past. There's even a whole subreddit and about a million tumblrs (I know) devoted to this sort of thing. But until it stops happening, until people realize that a dating website is not the place to harass others (and that this strategy will never, ever lead to a meaningful relationship or even sexual congress), it will continue to be important to hold this kind of stuff up to the light.