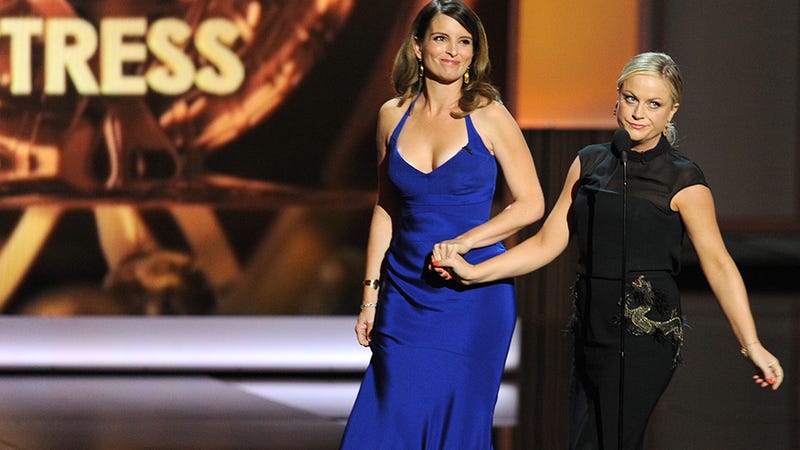 The Golden Globes are mere days away, and The Hollywood Reporter scored an interview with hilarious hosts Tina Fey and Amy Poehler. It's. So. good.
First of all, as Vulture points out, Amy (we're on a first name basis) was, as they say, Not Having It. You think the Polar Vortex is cold? Check out her replies to THR's Marisa Guthrie.
What is the worst pitch you've ever been given for an awards show joke?

Poehler: You think I'm going to tell you a bad idea for a joke? You're f—-ing crazy. No! Honestly you're just trying to figure out a fresh take on something. We like to leave a little space and air and sometimes that means having to think up a lot of different versions of the same joke or topic.

NBC is now the Sound of Music network. Are you getting any pressure to do the whole show as a live musical number?

Poehler: OK, I see what you're doing, you're going to set up jokes. I'm not falling for that. I didn't say any of that. I've worked at NBC for 12 years so I'm happy they had a successful night of TV.
Amy is not giving away her jokes. Her jokes are reserved for the live show on Sunday! Come on.
Next Guthrie tried to get Amy to talk about cleavage and/or nipples:
A challenge: $1,000 if both of you wear Amy Adams' plunging blouse thing from American Hustle.

Poehler: Oh eww, I don't want to even answer this question. Pass. Next.
Guthrie also attempted to get the ladies to talk about how Seth MacFarlane did when he hosted. Amy refused.
There was some carping about Seth MacFarlane's Oscar hosting performance last year. What did you think of the "boobs" song?

Poehler: It's so hard to host. I don't want to comment on anybody else's performance. Why would you think that we would say anything about anybody's performance if we're getting ready to do our own? It's a hard to job to host anything. Period.
Amy wasn't interested in talking about the brouhaha over at Saturday Night Live, either:
After a lot of public criticism, SNL has added an African-American women to the cast. Do you think that criticism was warranted?

Poehler: Ugh, I don't want to talk about this. Pass.
That said, Amy did have some great answers for other questions: She weighed in on the whole women over 40 thing, saying: