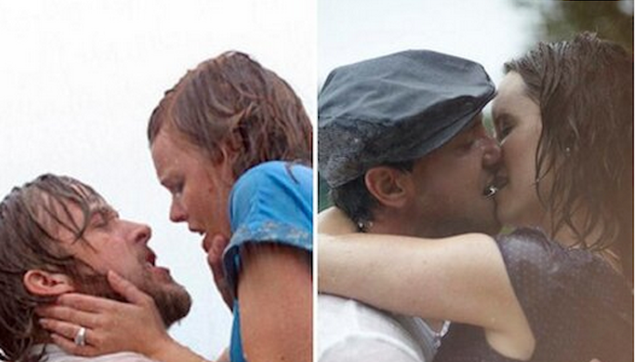 Such is the strength of people's love for The Notebook that these 2010 engagement photos went viral again this past month.
Four years ago, Cindy Gauthier and Jean-Nicola Barile recreated various iconic scenes from the 2004 tearjerker, starring Ryan Gosling and Rachel McAdams. I might be the only one who is [kinda, sorta] immune to this movie's charms, but even I have to admit that this couple looks the part, and somewhat recapture the same intensity that the original Noah and Allie had.
This couple's beautiful engagement photos were inspired by #TheNotebook! How cute are they?! pic.twitter.com/zQRXdkkBr0http://t.co/OUyCBna9yu

— E! Online (@eonline) June 20, 2014
Gauthier and Barile are still together and have a 2-year-old boy, now. Apologies in advance for being cynical, but here's hoping that their love story has a less Alzheimer's-heavy end.
they reenacted the notebook for their engagement photos😍 pic.twitter.com/jNcjAC8FmF

— miss☼shine (@the_queen_teen) June 20, 2014
You can view more shots here. Judging by what's on twitter, it seems like other couples have had the same idea as well.
The Notebook themed engagement pictures 😍 pic.twitter.com/L0TSYbpWmQ

— Michaela Russell (@michaela__16) June 18, 2014
These 'The Notebook'-inspired engagement pics have gone totally viral. Stunning! LOOK: pic.twitter.com/FpdR9TaqKUhttp://t.co/qH99KpIj8d

— AOL (@AOL) June 18, 2014