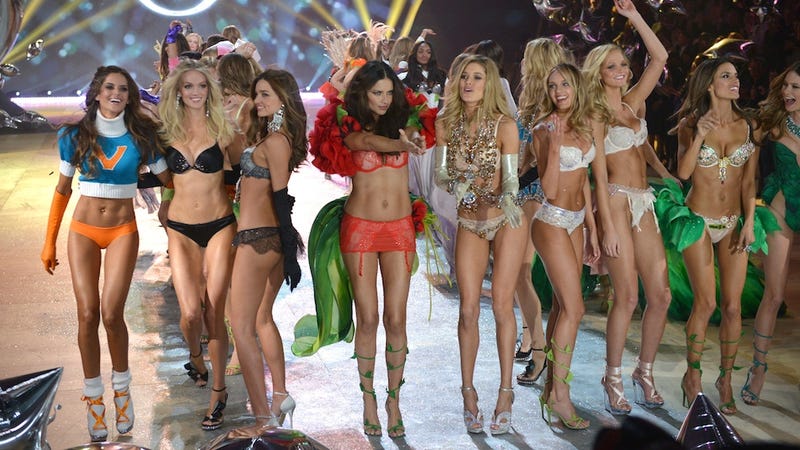 Have you ever wondered what it's like to be at a Victoria's Secret Fashion Show model casting? No, you probably have not, because everyone in the possession of the human faculty of logic can infer with 100 percent certainty that it's terrible, terrifying, and generally the opposite of a good time.
British Vogue's recent interview with Sophia Neophitou-Apostolou, who has served as the show's creative director for the past three years, confirms that the casting is the earthly equivalent of a special ring in hell where they send those who work on "Best and Worst Beach Bodies" spreads. Says Neophitou-Apostolou:
[The models] are provisionally cast by John Pfeiffer but the final decision is made by the whole team, sitting at this long table in a room with really harsh lighting and they have to walk towards us and away from us. They all have to do it — even the contracted girls — and it's incredibly nerve-wracking for them.
Through the most unflattering of hell-fires you must stride, clad just in underwear whilst a panel of demons squawks, "LIQUID DIET!" and "CELLULITE!" and "BEDAZZLED HALLOWEEN-THEMED LACE BOY SHORTS!"
But, oh, don't worry — it's not about being thin, says Neophitou-Apostolou: "It's really like being an Olympian — you have to be in peak condition." Because all Olympians train by eating nothing but high-protein baby food for nine days preceding their event; Olympians also refrain from drinking any water at all starting 12 hours before they compete. You can lose up to 8 pounds that way, as every Olympian knows.