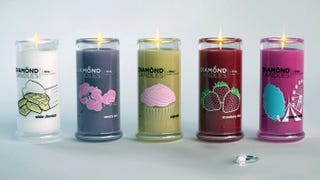 Did you know you can buy a soy candle with a surprise "diamond" ring inside it? Because you can. And that the women who buy the candles burn them down excitedly and then patiently extract the treasure-filled gold foil pouches like they're removing the still-beating heart of a cobra, then post "reveal" videos on YouTube? Because they do.
WTF are you talking about?
For $24.95 you can buy something called a Diamond Candle. The founders of the company, a husband and wife team plus one other guy, say the idea came when the husband went to buy his wife a ring for an anniversary and stopped to get a gift bag to put it in.
He couldn't find any gift bags, but just before leaving he saw some candles. David knew that Brenda loved candles, and he decided to pick one up to go along with the anniversary ring. On his way out of the store, he looked down at the ring in one hand and the candle in the other…
It's advertised as an "earth friendly, all natural soy candle" that comes in scents like "Sunwashed" and "Pomegranate Lemon" and "Cinnamon Tea," in addition to "life moment" candles like "It's a Boy" and "Best Friends Ring Candle" (which is SOLD OUT). The company, which has been around a few years, recently offered a "True Love" Valentine's Day candle for sale, but it sold out immediately. Inside the candle is a "real ring," supposedly worth $10, $100, $1000, or $5000.
So you don't even know what the ring looks like or if it will fit?
Nope.
And you have no idea the odds of whether the ring you get will be worth anything or not?
Nope.
How does the company explain it?
Very carefully (and lulz @ "nice rings"):
Is Diamond Candles a scam? How can we afford to put nice rings inside every candle?We are most definitely a legitimate company and are here to stay.Think about it like this, have you ever seen ads for a detergent company on television? Ad space during 'prime time' at night is extremely expensive.Where do they get that money from to do that? The money they make when they sell their products is reinvested back into the company by getting more customers and selling more products.Instead of us spending money on TV commercials, we take part of the money that we make from each candle sale and put a ring inside every candle.Obviously we can't put a $1,000 ring in each candle, but because we buy so many rings, we get discounts just like a jewelry store would.Need to see it to believe it? Head on over to our facebook page and just ask our fans and see the pictures they have uploaded of the rings they have found.
So how does it work?
You buy the candle, light it, wait a few hours, and then grab some tweezers and dig out the gold foil pouch (which is visible through the wax on the outside of the candle). You wipe off the wax, cut it open, and check out the loot, and if you're so inclined, make a video or post your bounty on the company's Facebook page (with over 700k likes) or on Twitter (#diamondcandle). If it doesn't fit or you think it's hideous, you can swap it on another Facebook page specifically for trading rings/candles with other DC devotees.
But, hey, it's a conflict-free diamond, right?
Only wax on these "diamonds," not blood, my friend. (Or maybe hazardous chemicals.)