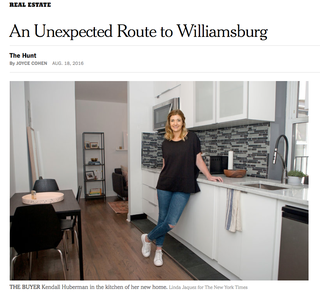 Kendall Huberman doesn't deserve this.
She seems like a perfectly fine person, if somewhat bland, and certainly lacking in self-awareness. So why does the New York Times care about her boring new condo in her boring new neighborhood? Maybe because the Times is staffed by crypto-Marxists waging a coded class war against New York City's monied elite, with special scorn reserved for the privileged children of the bi-coastal aristocracy.
This secret campaign (if it exists) (which it does) is waged across the Business, Real Estate, and Style sections, but nowhere is it more apparent than in Joyce Cohen's column, "The Hunt," which follows the city's denizens—usually young, usually white, and usually economically dependent on their families—as they look to move from one expensive neighborhood to another. Last week, Cohen profiled young Ms. Huberman, a graduate student at the Parsons School of Design.