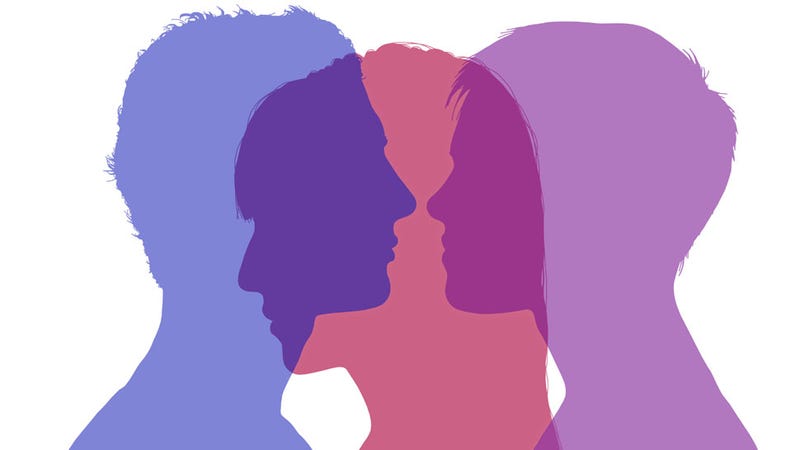 In my mid-twenties, I learned that taking your female friends to a gay bar is like taking a vegetarian to a butcher shop. There is a lot of meat, a lot of prime cuts, and even a little tripe, but nothing they can eat. While there aren't any publicly-posted placards posted to the effect of NO BROADS ALLOWED, the unnecessarily long wait times they have to endure to get drinks–watered-down drinks nonetheless–and the degree of stink-eye they receive from bartenders do a great job of conveying that same general message. Shortly thereafter, I began wearying of gay bars in general. My friends were largely women and if they weren't being treated respectfully–and not getting decent cocktails, then what's the use of opening a tab?
It's a dirty secret of a subculture of the gay male world about women: That they're essentially unwelcome, unless they come to us as a Real Housewife, a pop diva, or an Tony award winner–or an unassuming fag hag. To anyone just coming out of the closet and hoping to get his bearings in the gay male community, the attitude towards women is simple: They are just objects whose function is to serve gay men. Maybe it happens when gay men get too comfortable in newly-discovered safe spaces–where they get to call the shots as their proudly out new selves. Or maybe it happens through cultural conditioning. Whatever the cause is, it becomes clear: If there isn't any kind of transactional exchange happening, then women lose their value in gay male subcultures.
When we talk about gay male privilege, it's important that as gay men, we understand any of us could've been–or currently are–perpetrators of this culture, simply by being. In my earliest days of being out of the closet–and among women–I've definitely been that jerk in the room that feigned ignorance about female anatomy, that responded with a sneer when a discussion about women's bodies arose; I've been that young gay man that had his collection of divas who wore it better than the rest–pitted them against the collections of other gay guys. When this is your entire world, you misstep, you ride the identity to its outermost limits–and when it stops making sense, you reassess.
---
I used to have a best friend of over 20 years who had taken to calling his closest girlfriends the b-word and that c-word regularly. He had taken to screaming at them and insulting their bodies. When prodded about his disrespect, he'd dismiss it as humor. "God, can't you take a joke?" would be one of his favorite refrains. I say, "I used to," because sometimes you have to draw a line about who you keep in your life and who you don't. I couldn't stand to be around this kind of language any longer. Because as gay men, we actually have to find ways to empathize with our female friends, not use them as props to boost our own self-worth. It turns out even gay men objectify women–but dismiss such thoughts on the basis of their sexual orientation. Guys, no. "But, I'm gay!" can't be your excuse for anything, not in a world where entire industries now make concerted efforts to court our demographics.
Over the years, I've been honored enough to become best friends with strong, wonderful feminists, who in turn stirred me awake to the fact that everyday brought with it some fresh act of sexism or misogyny. As a larger, brown guy, I rarely have to worry about being followed or sexually assaulted on the street; this was and continues to happen to women in areas like New York City on a regular basis. I think that as gay men, we become so preoccupied with this idea of having to hide our personal lives from coworkers or family members or whatever that we forget that we still enjoy a lot of male privilege that our girlfriends do not.
Somewhere along the way, I also realized that gay men had allowed themselves to fall into a lazy and inexcusable rut of objectifying, demeaning, and dismissing women.
So many of us are only familiar with the idea of male privilege being the province of straight men that we discount how gay men are able to exert dominance and control over women. We may forget this because much of American history has painted gay men as victims–and as gay men, many of us blithely buy into this narrative even if it isn't our own personal history, because it allows us an easy way to assimilate to the larger gay male culture. Only in the last decade has gay male identity become accepted into casual discourse–and normalized into our cultural diet. Before we dive too deep into this, it's careful to delineate that for the purposes of this piece, "gay men" is a subjective, if imprecise lumping of all such men. It's not a static grouping of such men–it's a cluster that even included me for a time.
American subcultures that are unwelcoming of gay culture are now the exception, not the rule. With this shift, however, gay men especially are losing the single differentiator that hitherto marginalized us from our straight brethren. We are beginning to enjoy fundamental privileges women still do not have.
The Advantages of Manhood
So long as we know how to play our cards in the corporate world, we can potentially enjoy a higher salary than our female counterparts, as ours is still a culture that pays women and men unequally. Similarly, so long as we know how to wear our poker faces, we aren't likely to get sexually assaulted as women do. It's not perfect, but privilege is privilege.
Last summer, I was dating a guy whose friend kept making a series of rape jokes. He was proud of what he believed was wit so sterling, so sharp that it could seemingly shame even P.G. Wodehouse. It was the kind of palaver that betrayed how little he seemed to interact with the opposite sex, that he would be oblivious to what an actual, real threat sexual violence actually poses to women. Worse yet was the nonchalance of said dating prospect, upon hearing one of his long-time friends spout such jokes–he actually egged him on. It was like being stuck on Neverland with a couple of Lost Boys–it's also the kind of gay male setting where you realize just how people can take their privilege for granted.
From the Daily Kos:
Gay men may desire the same advantages of manhood as heterosexual men, but gay men simply do not occupy the same social status and same social space as straight men. I always cringe when I see a write-up about male power and advantage because as a gay man, I simply am not privileged to those things. It doesn't matter if I am as butch as Clint Eastwood talking about "Halftime in America" or if I am as flitty as Chris Colfer in the role of Kurt Hummel on Glee, I simply cannot be grouped with heterosexual men. Even if we passed every gay rights law imaginable at this instant, it may be decades, if ever, that I would be afforded the cultural advantages of manliness. In a sense, this diary is asking for a qualification when pundits and intellectuals comment on male power and privilege: make sure you say "straight male power and privilege."
This was written in early 2012. Now, almost two years later, the world has become a dramatically different place–not completely different, mind you, but different enough where many gay men are beginning to enjoy some of the same "advantages of manhood" that straight men do.
There are limits and caveats. As gay men, we still have to be calculating; if we live in the right cities, look for work in the right circles, we will be allowed access to the same advantages of manhood as our straight brethren do. If we live in the wrong cities, we will be ostracized and forced to retreat into the closet. Sure, we can't hold our boyfriends' hands in public for fear of getting heckled or assaulted on the street; we can't get married in more than half of the U.S. We may not enjoy many advantages our straight brethren do, but as another writer on the Daily Kos points out, we are still less likely to get profiled against for being overweight when interviewing for jobs, don't have to deal with putting on make up or getting our hair done, and aren't likely to have opinions written off as "women's troubles." There is a world of biases we don't have to deal with that women still do.
Perhaps that single fact is why so many gay men act out–and against women in many cases–is because they can get away with it. Mainstream culture has sanctioned gay misogyny against women as winky, as part of the package of characteristics that "gay people just have." For the uncreative amongst us, misogyny may be a desperate way of reasserting those elusive advantages of manhood.
---
A few summers ago, I was at an acquaintance's birthday party up in Harlem. Wine was flowing freely, perhaps too freely. I had asked a close friend of mine to come with the understanding that if this party sucked, we could ghost at any time and get a nightcap somewhere more reasonable. She obliged. Apart from a couple women, the guest list was largely gay men.
I was in the middle of a conversation with my friend and a couple other guests at the party. We had been congregating around the punch bowl in the kitchen. The layout of the flat was such that you had to pass through the kitchen to the bathroom–and the access was narrow. So as one of the guests excused himself to pass behind her on his way to the bathroom, our conversation abruptly stopped when we noticed a look of shock emerge on her face. She said that the guest had smacked her butt.
Later when he returned, I didn't say anything about the incident–hoping he'd rectify the situation or at the least, comment on it and add some kind of context that would explain that kind of behavior. Time rolled onwards. When my friend excused herself to check her voicemails, I asked him to apologize to her upon her return. He agreed, but after some protestation. She came back, he apologized, and we continued bantering. Until we abruptly stopped bantering.
Apparently, he had been quietly stewing. Ten minutes later, he came to a full boil, announcing that he didn't feel he was in the wrong over touching my friend inappropriately without her consent–but that I was in the wrong by requesting an apology from him. I was wrong–and my friend was wrong–because he was gay; because he told us what he did was not an intrusion on personal space, but a "love tap."
Apart from re-stating his sexual orientation, he also added, "I work in theater. That's just how we are with one another." A lot of what-ifs crossed my mind. What if he had been a straight man? The entire party would've turned on him and asked him to apologize, or else leave. What if he decided to grab Idina Menzel's or Patti Lupone's butts at an industry event; would he try the same arguments? Or would he attempt a sincere act of contrition? Would they have a grand old laugh about it or would they back-hand him? His excuses evoked echoes of the same arguments my former best friend used to make. Apparently, my friend needed to lighten up and get a sense of humor about having her body inappropriately touched. Just like that: Victim-blaming.
I excused myself to use the bathroom and when I came back I noticed that my friend and the party guest was absent. My stomach knotted up. Another guest told me that they had gone out to the balcony to talk. I later found out that my friend wanted to use the opportunity to get some air and have a one-on-one discussion as a chance to calmly walk him through why what he did was an unwelcome act. Her efforts were futile; she could barely get a word in edgewise before he steamrolled over her, talking louder and louder to try to prove his point, until she decided it was simply not worth pursuing. Ironically he had been trying to persuade her that I was bullying him before–not aware of what he was doing to her just then.
There's a lot of privilege associated with unapologetically encroaching someone else's personal boundaries like this. But the victim-blaming that ensued was more perverse. Ultimately, the guest had found a way to turn the party environment hostile. When her last-ditch attempt to make him see the error of his ways failed, we both cut our losses and decided to head home, feeling the glare of the guests below burn through us.
The party host, who had been asleep throughout this whole ordeal, sent me a text the next day admonishing me for creating a scene, without asking for the full story. Then he stopped talking to me.
Cultural Proxies As Role Models
I'm not so hard-pressed to figure out when this kind of objectification became de rigeur. I came out around 2004, when TV networks had finally figured out that there was money to be made in pandering to some version of the gay demo. It was the heyday for Will & Grace, America's Next Top Model, Queer Eye for the Straight Guy, and Sex & the City. The Scissor Sisters were turning heads with their eponymous debut album. Rufus Wainwright had managed to graduate into a rock-pop mainstay. Culturally, the U.S. had begun entering a watershed era for acceptance of gay male identity.
However, as gay men and tokens of gay male culture were becoming normalized into the discourse of mainstream popular culture, a prominent gay male persona was becoming idealized: That of the affluencer. This persona was defined by attention to detail, upscale tastes, sartorial sensibilities, casual promiscuity, a penchant for dance pop, and being bitchy. Popular culture was teaching its consumers that to be gay was to be like Will or Jack from Will & Grace. Popular culture was teaching newly-out gay men that they could be welcomed into the heteronormative fold so long as they shoehorned themselves into these pre-approved molds of gay male identity. Unsurprisingly, this persona–vetted by mainstream media–allowed a gay men a liberal margin of misogyny, allowing them to write such behavior off as part of their identity. Gay men were allowed to say things like, "I find vaginas so alien" or more reductively, "Ew!" at the mention of female anatomy because such responses were viewed as hilarious, because the negative implications of such humor wasn't ever really dissected.
It's unfortunate, because many of us don't get the luxury of role models in our formative years. Popular culture steps in as a proxy. When we see a mold of gay male identity be universally recognized as accepted, we want to try it on for size. We want to make it work. After being told in our formative years that there is no place in mainstream society for us, seeing representations of gay male identity in said society means we can finally come of age. We can enjoy a measure of equality. We can be "ourselves."* That is, if "ourselves" falls within the prescriptive limits of the gay male identity that's being commodified, packaged, and replicated by out gay men working in the realm of mass media.
These proxies are troubling though.
For example, in 2010, Project Runway judge and fashion designer Isaac Mizrahi grabbed Scarlet Johansson's breasts on the Golden Globes Red Carpet. When she looked visibly mortified, he retorted that he's gay so it's okay. Not so by her count. But when he acts so intrusively with little to no consequences, it sends a message to gay men who are still negotiating their identities and attempting to figure out how to fit into a world that still hasn't found a way to reconcile queer identity completely.