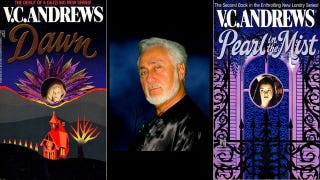 V.C. Andrews is practically an institution. Her young adult gothic horror novels have sold more than 106 million copies, been translated into 24 languages, and educated generations of adolescent girls about consensual incest. Hers is the longest-running literary franchise in history and she's one of the most popular authors working today—except that she's been dead for 27 years.
Andrews actually only wrote about 7 of the more than 80 titles attributed to her name. Just before her death in 1986 of cancer, novelist Andrew Neiderman was brought on to complete two different series that would've otherwise been cut short due to her illness. He proved to be adroit in mimicking Andrews' particular dark, soapy style, hitting that YA sweet spot where innocence mingles with salaciousness. The transition between authors was seamless, and the books were such a huge success that he began creating new family sagas under the now trademarked name.
To say that Neiderman is prolific is like saying Whitney Houston could carry a tune. He's published 70 novels as V.C. Andrews and 44 under his own name, seven of which have been made into films (most notably The Devil's Advocate starring Keanu Reeves and Al Pacino). He's written several screenplays and a version of Flowers in the Attic for the stage.
Neiderman's identity had been something of an open secret in the industry, but at the request of either the estate or the publisher, he would decline requests for interviews. However, "things have changed now," as he said when he reached out to Jezebel. After over 25 years and more than 100 million books sold, Neiderman is "out of the closet" as the man who is V.C. Andrews.
He spoke to Jezebel about his career as a successful female writer, his plans for new books in the Flowers in the Attic series, and of course, the hallmarks of V.C. Andrews' novels.
Why has incest and rape proven to be such a winning literary combination?
V.C. Andrews once said that the most interesting thing is: why do people who love each other hurt each other so much? And I think in all the family sagas we see examples of that.
[But] it used to be that when [I] wrote a V.C. Andrews novel, it was really fiction. I mean, Flowers in the Attic was challenged all the time because people would say, "How could those teenagers stay in there for three years or more?" [But now] it carries over into the real world [with] headlines like the three women locked up for 10 years and now there's something come out of London of people being enslaved for 30 years. It just seems like there's nothing you can create that isn't real, in that strange sense of the word.