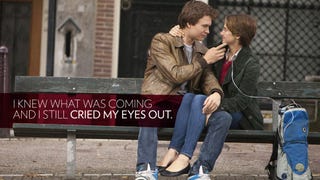 You know someone's doomed from the opening lines of The Fault in Our Stars, via the film's self-referential pledge to neither romanticize nor sugar-coat death: "I believe we have a choice in this world about how to tell sad stories... This is the truth. Sorry."
You also know, from the start, that you're watching a soapy cancer romance with grand gestures and teen feelings and the concept of "true love" accepted as an empirical truth. No surprises there. So why was I shuddering with grief by the end? How did A Fault in Our Stars get me, when I knew what was coming, a lot of what was coming was silly, and it was presented in the most formulaic possible way? WHY DID I ALLOW IT TO JERK MY TEARS?
Well, it's just a fucking good movie. They did a good job. Also, Shailene Woodley. The Shailene thing — I get it now. She's magic.
TFIOS was good enough to utterly crush the box office over the weekend, taking in over $42 million (the film was made for $12 million, which means that a bunch of people are rich now probably [caveat: I do not work in show business or know how getting money works]). So, to every dildo who's ever parroted the old "movies with female protagonists just don't make money" line, KINDLY GO SNIFF YOURSELF. TFIOS is a woman's story, and it out-earned Tom Cruise without breaking a sweat. Deservedly so.
For those who haven't read the book (0r, like me, only had time for the first few chapters before their blog post had to go up): Hazel Grace Lancaster (Woodley) is a 17-year-old smart-ass from Indianapolis who's been battling various forms of cancer since she was 13. Thyroid cancer eventually migrated into her lungs, where, thanks to an experimental treatment, it's just chilling until the day when it won't anymore. And then she'll die. Cancer is an interesting movie villain because it's so senseless, so frustrating, so intractable. The thing that's killing you is you, and you can't stop it. How fucking unfair.