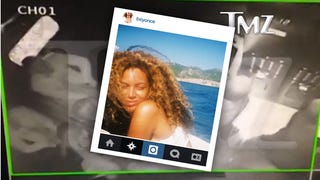 Oof. So, what are we calling this elevator situation? Is there a name yet? Jaymageddon? The Solpocalange? The Bey After Tomorrow? I Knowles What You Did Last Summer? I don't know if I have ever seen the internet this whipped up and riveted—"ever," by the way, includes Adele Dazeem, Anthony Weiner, AND the complete run of Scandal—and something that momentous needs a name.
Or is it that momentous? Would we care as much about Beyonce's problems if she wasn't so masterful at concealing them?
Families fight. Couples have problems. Human beings do not get along. Some people are abusive and some people respond to frustration with violence and some people are mean drunks and some people lose their tempers sometimes. This is not a good situation (and violence is always wrong), but as far as the public can tell, it is—in the grand scheme of things—a fairly commonplace one.