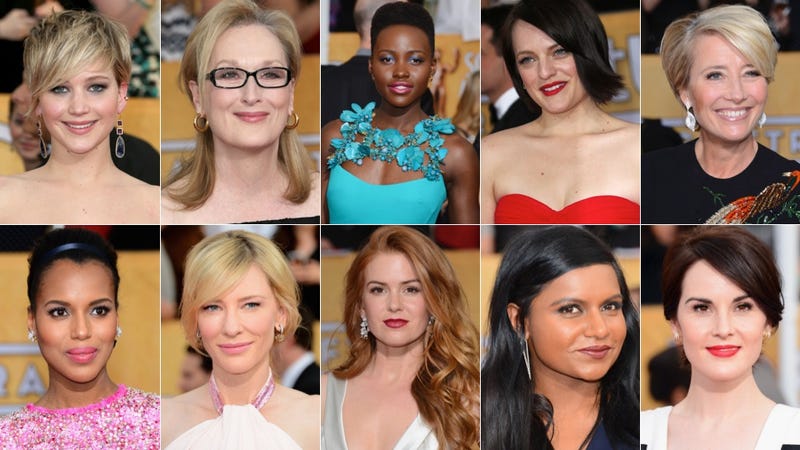 Saturday night at the Screen Actors Guild Awards, things were hit and miss on the red carpet. There were ensembles that were very good! But there were also some that were very bad. And a few that were terribly ugly. Let's take a look.
First: A couple of boyfriends for you. There were some other gentlemen in attendance, but these two seem especially important. Not even going to ID them because you know who they are. They are your boyfriends.
Ummmm… How about we get the ugly out of the way, very quickly? Mayim Bialik's voluminous shiny lacy bordello curtain extravaganza is part Gunne Sax dress, part '80s bathroom shower curtain. As for Raini Rodriguez — at least she looks like she is having fun.
For a palate cleanser: One of the best dressed of the night! Hannah Simone in a whisper-light Marchesa gown. Gorge ring by Dionea Orcini. STUNNING.
Steely grays: Kaley Cuoco was cinched-in; Rita Wilson sparkled.
Ladies and gentlemen, Sofia Vergara, the slinky human disco ball.
More pale hues: American Horror Story's Sarah Paulson, Game Of Thrones star Maisie Williams, Isla Fisher in silver screen silver.
Natalie Dormer: That time Anne Boleyn was in The Fifth Element.
Also keeping things light: Nancy O'Dell, Gretchen Mol.
Spectacular look for Elisabeth Rohm of Law & Order and American Hustle.
Perfect hair.
Mixed feelings about the Cate Blanchett's sequined dinner napkin.
Although mullet dresses can be problematic, Modern Family's Sarah Hyland's is pretty.
A few more light-colored lovely looks: Laura Carmichael — aka Lady Edith Crawley of Downton Abbey; Game of Thrones' Sibel Kekilli; TV presenter Maria Menounos; Emilia Clarke, aka Daenerys Targaryen.
First we heard about wedding crop tops. Now Kerry Washington has introduced us to the maternity crop top. Sure. Why not.