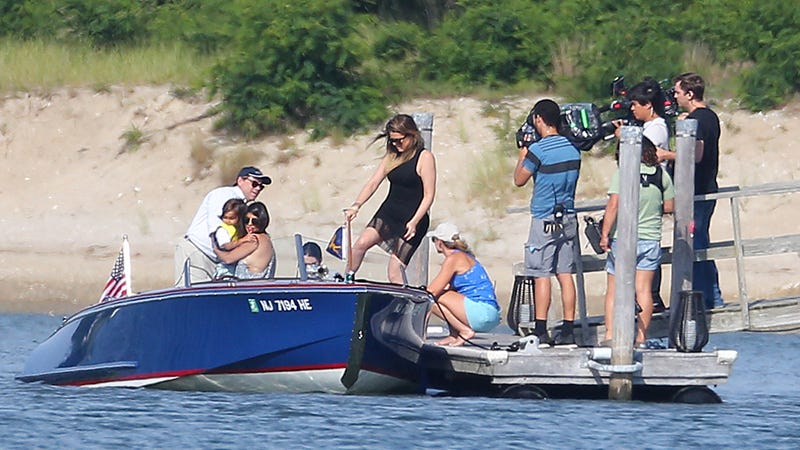 Happy almost-Fourth of July: paparazzi have created a flotilla outside of the Kardashians' vacation house in the Hamptons, bearing megalenses and trying to get photos of the Kardashians doing stuff. America!
I think that several photographers immersing themselves in the sea in order to get exclusive pix is not a concern any person — no matter how famous — would have, but here we are.
Quoth Page Six, "The fishing crafts full of fotogs appeared to have struck it lucky. The Kardashian ladies, in various camera-friendly, tight and revealing outfits totally unsuited to boating, were photographed setting sail over the weekend."
Ew. [Page Six]
---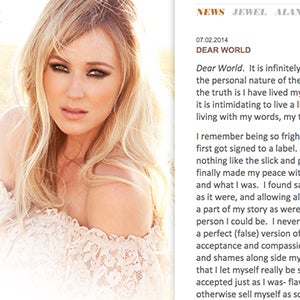 Jewel and her husband are getting divorced after 16 years together; she posted a Goop-style note on her website in which she described it as a "thoughtful and tender undoing of ourselves." Best wishes to everyone. [JewelJK.com]
---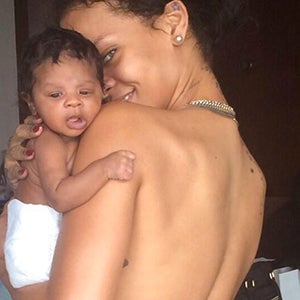 Rihanna combined two beautiful concepts (topless Rihanna photos and photos of babies) into this one glorious image of her holding her niece. [Just Jared]
---
Prince was forced to wait 30 minutes outside of a BET Awards after-party. PRINCE. If Prince must wait to get into a party, what hope is there for the rest of us? [Page Six]
Demi Lovato unfollowed Selena Gomez on Twitter (the Internet panopticon is always watching whom celebrities follow). ALSO she tweeted a picture that says, "Swimming away from your bullshit. Bye bitch." So that may have been a clue!!! [ONTD]
Miley Cyrus is going to be touring with Lily Allen now :-| [Billboard]
"Kim Kardashian Wears The Worst Possible Dress to the Amusement Park" was this article's title in my RSS feed. Idk. It could be worse. What if it were made out of little baggies of cocaine and weapons? What if it said "HELLO; I AM REALITY TV STAR KIM KARDASHIAN; SANTA IS NOT REAL."? [Style Blazer]
"Suki Waterhouse Risks a Nip Slip." Aren't we all just risking nip slips, when you think about it? [E!]
Tina Fey will not be making a Hocus Pocus sequel; however, she is attached to another film about witches. Blessed be. [HuffPo]
I'm not exactly sure who Scott Eastwood is, but I support his decision to become a shirtless merman. [Just Jared]
Taylor Swift posted a video of her with her new kitten, but it was, like, kind of disappointing. We need more cat video, please. [Just Jared]
David Arquette got engaged. [Gossip Cop]
Davie Coulier got married. [MTV]
Image via Splash.