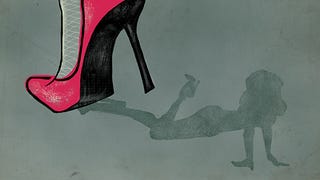 I expected to be criticized for my work — I'm a porn performer — from my classmates at Duke. But from my fellow strippers, denigration for "sitting on a dick for a living" stung, if no other reason than that I didn't see it coming.
I am often asked if there is solidarity among sex workers. The answer, as I've come to slowly and painfully discover, is no. We're all essentially doing the same job — selling tickets to a fantasy — so you might imagine that, like retail, food service, or any other profession, we might have some form of solidarity. But what I've learned about the sex work heirarchy — or the whorarchy, if you will — has helped shed some light on some of the lies I believe all women are buying to one degree or another.
Since filming my first porn scene, I've discovered that sex work segregates itself along perceived social and legal lines ranging from phone-sex operation to stripping and porn to prostitution.
The whorearchy is arranged according to intimacy of contact with clients and police. The closer to both you are, the closer you are to the bottom. That puts "outdoor" workers, ie street-walking prostitutes, at the foundation. They are disdained by "indoor" prostitutes, who find clients online or via other third parties. They are disdained by the strippers and escorts who perform sex acts for clients, who are disdained by those who don't. At the top sit sex workers who have no direct contact with cops or clients, such as cam girls and phone-sex operators.
Even within porn there is stratification. Women who engage in specifically interracial or edgier scenes are viewed as somehow "lower" by other performers. I was marginalized within the industry for my work on a rough sex website. I've witnessed colleagues receive racist epithets for their work on interracial productions. Gay or trans performers are particularly ostracized by the mainstream due to the AIDS stigma attached to their work.
The whole thing is so odd to me. As a feminist, I understand that the hierarchy originates from outdated, pernicious ideas about sex, gender, and class. I certainly was taught at a very early age that sex was a sinful, evil act and that women who engaged in sex were promiscuous deviants with mental disturbances. I struggle to overcome the shame I'm supposed feel about not fulfilling my (obviously class-coded) 'potential.'
We're hardly the only ones suffering from such stratification. All women are taught from an early age, through religion, media, and socialization that men do not respect women who are sexual outside of marriage, but require they be hypersexual within it. They want someone they can bring home to their mothers, "A lady in the street but a freak in the bed," according to hip-hop artist Ludacris. Be a whore, but be respectable. Be slutty, but not too slutty. Use sexuality to sell perfume, food, clothing, cars but never, ever sell the sex itself.
Women who fail to meet these standards will be punished. But, of course, it's never just about sex. Earlier this month Slate covered a study showing that rich girls and poor girls use the word "slut" more to maintain class positions than to accurately describe sexual behavior. The rich girls used it to keep poor ones in their place, while working-class women used it as a term of derision seemingly borne of envy.