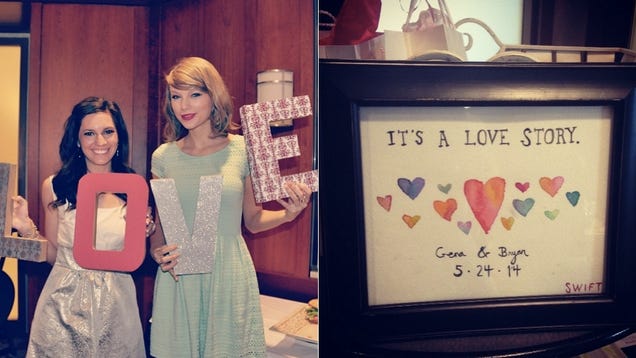 Here is your confirmation that Taylor Swift is that one sorority sister who's only got one setting and that is over-the-top: She turned up (unexpected but very much invited) to an Ohio superfan's bridal shower, toting presents including a Kitchenaid mixer, Le Creuset pot, and a watercolor painted by her own hand.
Bet there's a maid of honor somewhere in the background who is pissed about this turn of events.
According to E, Gena Gabrielle has been a devoted fan for years and first met the star in 2007. She invited the singer to her wedding and shower, but told Today it was totally unexpected: "[Taylor] said she planned it with her management and her mom. She said it was all worth it because my face was priceless."
Taylor didn't crash the bridal shower she had an invitation ;) I'm really not that special and I'm still in awe she did this for me. ❤️

— Gena Gabrielle (@GenaGabrielle) April 14, 2014
@taylorswift13 thank you so much for everything . You went above & bring my wildest dreams. I can't thank you enough pic.twitter.com/RfqrfhNBMj

— Gena Gabrielle (@GenaGabrielle) April 14, 2014
Apologies to all the celebs who'll now have to field bridal shower invites as well as pleading promposals.
Photos via Instagram.