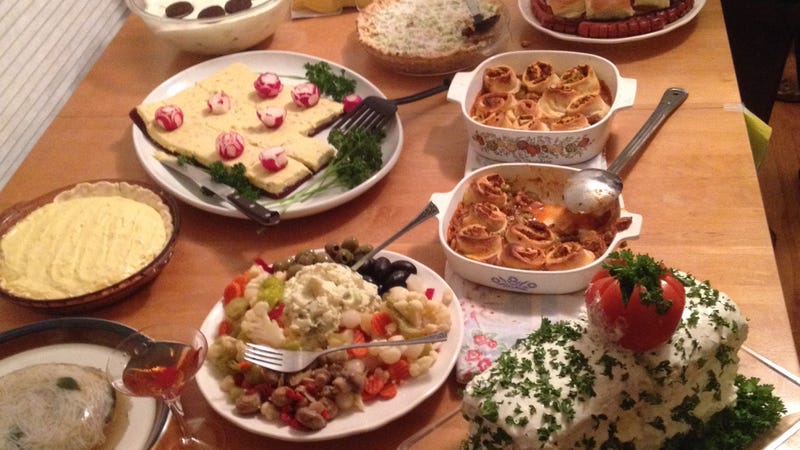 Few things are more luridly delightful than midcentury food porn—fishy Jell-Os, mayonnaise frosting, all canned everything, foods ground up and then moulded into the shapes of other foods. If you've ever flipped through your grandma's post-war Betty Crocker cookbook, then you know what I'm grimacing about. These are recipes from leaner times, grounded in thriftiness and imperishability and resourcefulness. And, yes, Hot Dog Aspic Ambrosia is fun to gawk at in 2014, but what would happen...if you actually ate the food? Some friends and I decided to find out.
It was my boyfriend's sister's idea, and a few weeks ago she sent out the following invitation:
Have you a love of all loaves? Are you jonesing for jello? Do you believe salad should shimmy?

Pick a dish from this wonderful list, or if you have a mid-century Betty Crocker cookbook that you've been dying to try, feel free to make a questionable life choice from there instead.

Be sure to post your selection in the comments below. We can only have so many Spam N Limas.
This past Saturday night, ten or so brave people showed up at my house bearing jiggly, Spam-scented platters. We girded our loins, ready for battle. I mean, it's just food! Technically! How bad could it possibly be?
Pretty fucking bad. Here is a ranking of all the recipes from best to worst.
---
Pineapple Upside-Down Cake
There's a reason why this is pretty much the only item on the list that still, in modern times, qualifies as a normal thing to put in your mouth. In case you've been sleeping on this shit, it's time to wake up and recognize that Pineapple Upside Down Cake is earth's greatest human food. We spent most of the party angry at the other foods for taking up so much stomach space before we could finally get to this elegant lady.
The pineapple slices get kind of crunchy and caramelized with sugar and the cake tastes like childhood MIXED WITH RUM. 10/10, would shovel again.
Here's the chef herself with advice on how to bake the perfect PUD-C.
---
Gammy's Oreo Banana Cream Dessert
I made this one. It's my friend's grandma's recipe—just Oreos (or Newman-Os, because I shop at the hippie co-op), sliced bananas, and whipped cream layered in a bowl or trifle dish. If you make it the night before, the cookies soften and the whole thing turns into a brown and yellow gloppy pudding. Choosing this recipe for the party was sort of cheating, because I already knew that it's FUCKING AMAZING. But I thought people might want something that was guaranteed to be edible.
Commentary from one partygoer: "GAMMY'S MESSY DESSERT THING = MIND ALTERINGLY GOOD." There was also a baby there. The baby loved it. How many babies have you impressed this week, smart guy!?
---
Orange Delight Pie
Perhaps unsurprisingly, the dessert offerings rounded out the top three, because they contained 100% less ham mucus. This pie reportedly won a $10,000 runner-up prize from Pillsbury back in the day. It tasted exactly like orange Kool-Aid powder mixed with cream cheese, which is exactly what it is. The tang was strong.
---
Pile of Potato Salad Surrounded by Miscellaneous Pickles and Olives
I ate like 49 pieces of pickled cauliflower to trick everyone into thinking I was a Participator!!! I thought that maybe if I was constantly chewing, nobody would notice if I never touched that fucking Tuna Jell-O hellscape.
It didn't work. They noticed.
---
SPAM Sandwiches
These are just slices of fried SPAM on little Hawaiian rolls. They're great, if you like SPAM! If you like that slightly gaggy, teriyaki garbage back-taste that SPAM has. Seriously, they're great. I like SPAM.