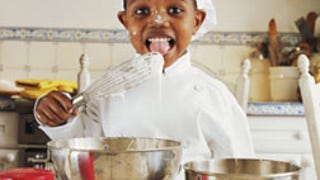 Sometimes it seems as though yuppies are all in on an elaborate plot to keep others from procreating and providing more parental competition. The latest evidence: the child foodie movement.
Here's
a list
of the most popular "hipster baby names" as defined by aging-hepcat areas like Brooklyn, Madison and Austin. As one might expect, the rents either kick it old school (Olive, Orson, Violet, Sadie (ugh), Silas), literary (Atticus, Dashiell), musical (Lennon, Kingston) misleadingly ethnic (Leopold, Stellan)…
Yes, he can rock a suit. And the man pitches a mean cigarette slogan. But Mad Men's resident mystery cad Don Draper "cheats on his pre-Friedan-ized wife, Betty, going through mistresses like packs of Lucky Strike cigarettes. He is stoic, handsome, emotionally stunted." So, why, the 's Irina Aleksander, are liberated,…
In the organic farming world, Amy Hepworth is a rock star. According to New York magazine, apparently foodies at Brooklyn's uber-smug Park Slope Coop are so obsessed with the farmer — known for her apples — that they line up before dawn to meet her truck and go to meet-and-greets. Although her family has farmed…
As we know, yuppies enjoy spending money. And when it's
environmentally responsible products that might be better for their children's health?!
Giddy-up. Accordingly, high-end baby skin and hair care is booming. As any Whole Foods employee can tell you, lines like California Baby, Nature's Baby Organics, and Noodle…
The latest must-have for the terminally busy and frivolous is a baby planner. According to ABC, moms like hospital administrator Jennifer Rein hire companies like inBloom Baby Planners to "help set up her baby registry and nursery, arrange private CPR classes for Rein and her husband, do product research to make sure…