This just in, a dispatch from the archives: The Progressive reprints a proto-listicle from 1912, wherein Jane Addams turns objections to women's suffrage back onto men. For instance: "Most men do not want to vote," and "Men's suffrage would diminish the respect for men." Well, if the shoe fits....
Meryl Streep has just signed on to play British suffrage icon Emmeline Pankhurst in the aptly-titled Suffragette, which also stars Carey Mulligan. The movie will focus on early 20th century feminism, and is directed, written, and executive produced by women. No word yet on whether a a scene debating what suffrage…
Before women were granted the right to vote in 1918 and 1920 in the UK and US, respectively, there was a very, very long discussion about whether giving women the vote was a good idea in the first place. In fact, people were so adamantly against giving women the vote that the more artistically inclined of the…

Back in the olden times, things were simpler. Serious things like voting and wearing monocles were left to the men, whereas women were kept in a state of perpetual kittenhood, tending to the little ones, keeping the house clean, and nodding in agreement with their husbands. Everything was beautiful and nothing hurt.…
That's right: on August 18th, 1920, women won the right to vote. (It became law on 8/26.) Celebrate by preparing for the upcoming midterm elections and, in honor of our suffragette sisters, do a little light hell-raising.
Mavis Leno, a board member of the Feminist Majority Foundation and Jay Leno's cooler half, spoke on Tavis Smiley last night about a political awakening involving jockeys and suffragettes.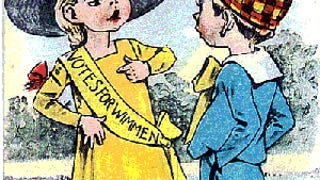 1909 was a violent year for the women's suffrage movement. "The most serious incident," says author Andrew Rosen, occurred "when Winston Churchill, who had just alighted from a railway carriage, was attacked by a suffragette wielding a riding-switch." [The Awl]
It's come to light that scores of Englishwomen risked prosecution by refusing to participate in a 1911 census, to protest their inability to vote. Wrote one suffragette, "No votes for women, no census." [Times UK]