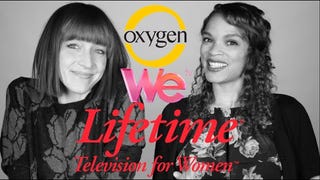 We're nearing the end of Women's History Month and, with that, comedy duo Emotistyle is giving some much needed gratitude to the television networks that empower us, tell our stories and routinely show us beating the shit out each other.
When Lupita Nyong'o won Best Supporting Actress at the Academy Awards this week, her success inspired bunches of style shifts. Perhaps long Hollywood weaves will go out of style because of the actress' gorgeously cropped hair, maybe her gown's blue hue will be spring's hottest new color or maybe we'll all be wearing…
[Washington, D.C., March 25. Image via Getty]
While our full Saturday Night Live roundup is on the way, I thought perhaps Will Forte's demented "Women's Herstory Month" song from last night's Weekend Update deserved a post of its own. Clip after the jump.
[Washington D.C., March 19. Image via Getty.]
This Funny or Die video called "Women's History: Presented by Porn Stars" features famous porn stars reading cue-cards about pivotal events like Seneca Falls and the publishing of Betty Friedan's the Feminine Mystique, which adult film vet Nicki Rhodes declares "the best book ever." Unremarkable yes, but the ending is…