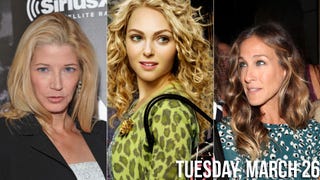 After Sarah Jessica Parker called the AnnaSophia Robb-starring Sex and The City prequel The Carrie Diaries "odd," money-making enthusiast MAJOR Carrie Diaries fan Candace Bushnell hit back at SJP for being an old cronehag who doesn't understand how the world works.
So Lindsay Lohan asks to borrow a designer dress for the amFAR gala from stylist Phillip Bloch, whose number she got from Charlie Sheen. Is any part of what I just said a valid reason to hand over a $1,750 dress of intricate beadwork and gossamer fairy tits and silkworms that only eat free-range food and drink fair…
Kanye West wasn't invited to George Clooney's Haiti telethon. "After what he said on the Katrina telethon and the way he behaved at the MTV VMAs, everyone agrees it's just best that he does not participate," said a producer.