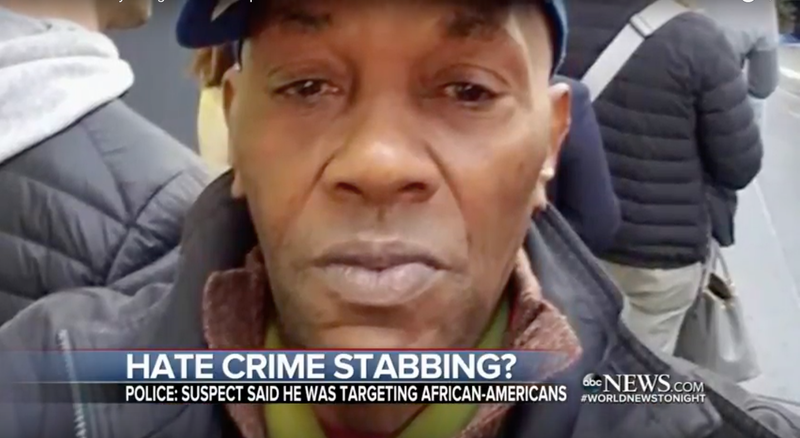 On Monday night, Timothy Caughman was stabbed with a sword in New York City while collecting bottles on a sidewalk in Manhattan, later dying of his injuries at a nearby hospital. According to police, he was randomly targeted by his assailant because he was black.

Republican Congressman Steve King is basically one step away from parading through Iowa with a big white hood and burning a cross on his lawn. On Sunday, the Republican tweeted support for Islamophobic Dutch politician Geert Wilders, writing, "we can't restore our civilization with somebody else's babies."
Pianist Daryl Davis estimates that since the early '90s, he's collected around 25 robes that were worn by Klansmen, each representative of a mind he's changed and a life he's converted to anti-racism. Davis, who's black, has made a name for himself by actively seeking out KKK members to shoot the shit with, in attempt…
Reuters reports that the Trump administration is planning to reframe CVE, or the "Countering Violent Extremism" program, to solely focus on Islamist extremism. According to sources briefed on the matter, this means that the program would no longer target, say, white supremacists, another victory in a long series of…
You may have seen the footage of white supremacist helmsman Richard Spencer getting punched in the head. Perhaps you have even watched the video multiple times, taking solace in that fleeting, blissful moment of justice—Jezebel does not endorse violence of any kind—in the midst of so much panic and sorrow. If so, you…
On Christmas Eve, George Ciccariello-Maher, a political theorist and professor at Drexel University in Philadelphia, tweeted, "All I Want for Christmas is White Genocide." The tweet was subsequently deleted, but not before Breitbart News picked up on it, triggering hordes of racist trolls. "The professor's Twitter…
Thanks to sustained, legitimate outrage from people on the Internet and a major ethical violation, there will be one fewer outlet for white supremacists to plead their case to the American people.

When I think about fascinating, under-covered subjects deserving of a major documentary series, the Klu Klux Klan is the dead last thing that comes to mind. Very sadly, in today's America, anyone who follows the news is bombarded constantly with stories about the KKK and those who sympathize with their white…
On Friday, The Daily Stormer founder Andrew Anglin published an incendiary bit of propaganda that called on white supremacists to harass Jewish people in the town of Whitefish, Montana, claiming that they have caused Richard Spencer's mother's real estate business to fail (of course, this is not true), Think Progress …
On Saturday, the National Policy Institute (NPI), an organization aligned with the "alt-right" movement, assembled in Washington, D.C. to celebrate Donald Trump's election to the presidency. They were met with vehement protest by hundreds of D.C. locals, who marched down Pennsylvania Avenue to condemn the group's…
In case you haven't heard, former Ku Klux Klan Grand Wizard David Duke, after receiving a resurgence of mild attention during Donald Trump's presidential race, is running for U.S. Senate in Louisiana. Last night's debate was held at historically black New Orleans college Dillard University, where Duke railed against…
Representative Steve King (R-Iowa) has a question, which he seems to regard as rhetorical: has any "sub-group" contributed to the progress of Western civilization like white people have?
I am sighing with the disapproval of a parent who knows their kid is lying after being given every opportunity to tell the truth—but in this scenario, my kid is a racist teratoma.
[West Hollywood, May 1. Image via Flynet]