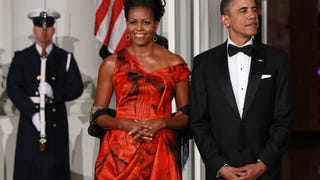 ...at least, that's what Barbra Streisand and her fellow guests would have us believe. While we're on the subject: why was Anna Wintour there?
Today on GMA, Carlos Allen denied allegations that he crashed the White House State Dinner. His story is long-winded and doesn't make much sense, but he seems to think saying "actual" 25 times in five minutes makes it more convincing.
As the White House and Secret Service determine whose head should roll for admitting Tareq and Michaele Salahi to Tuesday's state dinner, more revelations about the Salahis make it clear that White House gatecrashing hasn't been their only misstep.