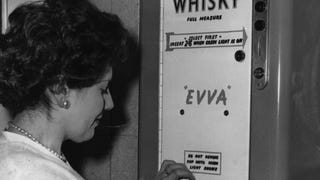 It appears as though whiskey sales are increasing to the point where they're surpassing vodka sales, and there's an infographic more touchingly beautiful than anything any alcoholic artist ever produced to prove it.
This is a Pink Lady: 15 oz. gin, 4 dashes of grenadine, and an egg white.
When I see a man drinking bourbon, I expect him to be the sort of man who likes to drink bourbon. I guess I could project some kind of cartoonishly rugged masculinity onto him — like the ability to build a bookshelf from scratch without math and picture myself watching adoringly/helplessly while he does so. But since…
Though whiskey is usually marketed as the manliest of drinks, there's a new Jack Daniels campaign that targets the ladies. Apparently it's now okay for women to ingest hard liquor, but only if they're using it to bake cookies.
Raymonde and Lucienne Wattelade, French sisters who turn 98 today, have been recognized by Guinness as the world's oldest twins. They live together by the sea and stay active, but say their secret is drinking pastis and whiskey.
A plane crash is being hailed as a "miracle" after only one of the 131 passengers died. The jetliner hit a thunderstorm and broke apart on a Caribbean island runway. According to officials, only five people were seriously injured.
Talk about surrendering to a higher power: Mrs. Margaret Anderson, "the noble woman who is hated by the whiskey trust", has discovered a secret remedy for drunkenness, "which anyone can give secretly." We suspect the time-honored snake-in-bottle ruse. [Vintage_Ads]
• The Guard Dogs, a French/Swiss feminist group, has named this underwear ad the most degrading of the year. The Guard Dogs also give out "macho medals" for the most sexist remarks. •