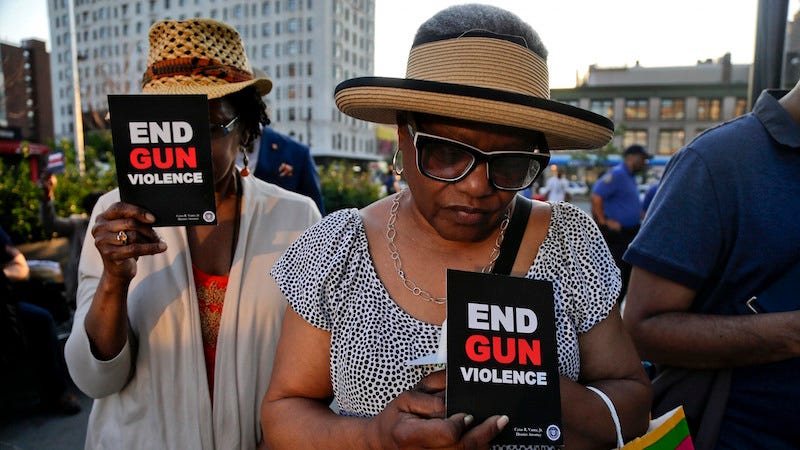 Kevin Quealy and Margot Sanger-Katz of the New York Times compiled data on gun death that shows the United States as the outlier it is, at least among developed countries. The article was originally published in 2015, but there has been cause for recent updates.
We were deep in the woods of Humboldt County at Katie Azevedo's family ranch, gathered around the table for breakfast. It was a comfortable scene, but six weeks ago Katie was dirty and dusty, in the midst of a transformative experience: She and her mother, Linda—along with their horse, Sedona—were riding the Pony…
Britton Hill is a blip on the side of Florida's County Road 285, a small highway near the state's border with Alabama. The site is modestly appointed with a granite, tombstone-like marker and two park benches. The average Florida tourist, bound for a hot beach or the splashy allure of Disney World, might stop to…
An apparently notable thing happened on Monday night, during an exhibition hockey game between the United States and Canada. The two teams got into a brawl and four of the women involved were given penalties for roughing, defined by the NHL as "a punching motion with the hand or fist, with or without the glove on the…
Well, here's a double whammy of saddening and maddening. This past Sunday, Maria Sanchez, 26, died in her Houston home from the effects of an inoperable spinal tumor. Just four days earlier U.S. Customs and Border Protection denied a humanitarian parole to her parents, so they were unable to see their daughter on her…
The Guttmacher Institute launched a handy new tool today that it describes as a "one-stop resource" for unintended pregnancy facts.
We have got to do something about the Canadian border, y'all. I dunno what — build a wall? Form violent gangs to scare visiting Canadians back into the True North? Place signs in the windows of businesses proclaiming "We Don't Serve Poutine?" Whatever We The People decide, we better act fast because the Canadians are…
Just when it seemed like all the super scary diseases had been discovered—flesh-eating bacteria, brain tapeworms, and, of course, HIV/AIDS, among many others—a new one comes along to bring fresh terror into our hearts. Introducing Chagas disease, which is caused by parasites that get into our bodies by way of…
Depending on where you are in the world, you may believe in one kind of God or another, or you may not believe in anything. But one thing is for sure, according to a new report, as you get older you're far more likely to veer into God-fearing territory. Why? Because you start to realize that, in fact, you will die…
Chicago native Ellie Lavi's attempts to obtain citizenship for her twin daughters has gotten caught on the snaggle-tooth of America's bureaucracy, with the U.S. State Department refusing to grant the children citizenship because Lavi, who used donor sperm and egg from an Israeli clinic, can't prove that either of the…
In a recent survey that could hurt Egypt's tourism industry, two-thirds of Egyptian men admit to harassing women and most of them blame women for wearing tight clothes and not being home by 8 pm. Of course, harassment is defined as everything from hollering at and ogling women to whipping it out and groping (more…