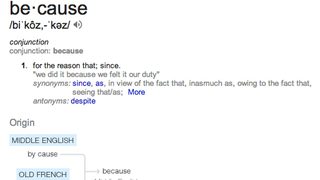 The American Dialect Society has voted "because" the Word of the Year for 2013, because "because is now being used in new ways to introduce a noun, adjective, or other part of speech." No matter how annoying you think it is, because is definitely very hot right now.
The penultimate authority of the English language (Urban Dictionary will always be number one) has spoken! Let it be known henceforth that in this 2013th year in the Gregorian calendar, the global zeitgeist was encapsulated in the word "selfie." Pretty much exactly what one would expect a team of ivory tower…
Big Freedia, New Orleans' own Bounce Queen, known for ass-centric song and dance (seen here in a clip from last year), is not happy with Miley Cyrus's antics, telling Fuse:
Enthusiastic booty dancer and zero-fucks-giver Miley Cyrus just Was Miley and twerked at Juicy J's House of Blues show Saturday night after Amber Rose (in an awesome old-school Cher-esque wig) and Wiz Khalifa "pushed" her onstage.