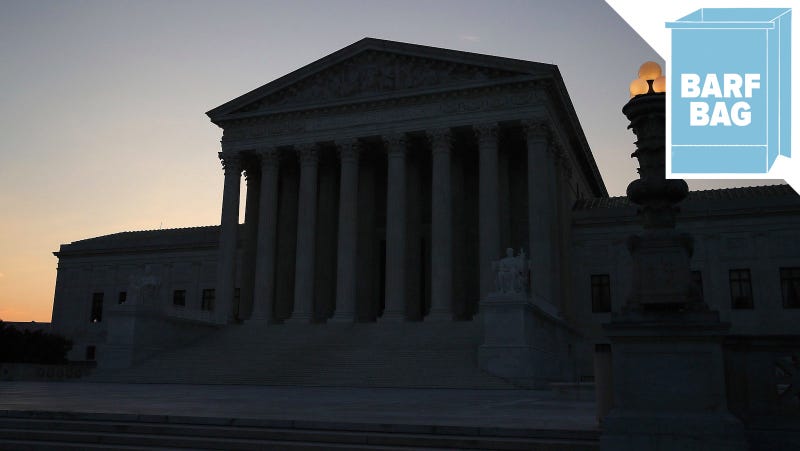 Welcome to Barf Bag, a daily politics roundup to help you sort through the chaotic Trumpian news cycle.
On Wednesday US District Court Judge Derrick Watson granted the state of Hawaii's request to extend the order halting President Donald Trump's revised Muslim ban executive order.

Less than six hours before President Donald Trump's new-and-improved-but-still-shitty travel and refugee bans were set to go into effect, a federal judge in Hawaii has issued a temporary nationwide restraining order.
Just one day after Hawaii filed a suit against the newly-revised but still very awful travel ban signed by Donald Trump, Washington state has renewed its request to block the executive order.

On Monday, Donald Trump signed a newer, shinier version of the travel ban that prevents people from six Muslim-majority countries from getting visas for 90 days and suspends the refugee program in the United States for 120 days: On Tuesday, Hawaii filed a suit against the new travel ban, in the hopes of it being…
Town hall meetings are underway across the country this week as members of Congress return to their districts during the congressional recess. Well, sort of—only 19 Republican members of Congress are holding town hall meetings during the recess, and notably none of them are located in Utah, where Rep. Jason Chaffetz…
After United Stated federal courts struck down Donald Trump's flagrantly xenophobic travel ban, he threw a hissy fit on Twitter—"I'll see you in court!" he threatened, bafflingly—and set about revising it. But so far, the new draft targets the same seven, primarily-Muslim countries.
On Thursday, a federal appeals court unanimously refused to reinstate President Donald Trump's travel ban, the New York Times reports. Nice to see that for now, democracy is still working, isn't it?

On Monday evening, President Donald Trump fired acting Attorney General Sally Yates—the Justice Department's top official—after she refused to defend his xenophobic executive order barring entry to refugees and travelers from predominately Muslim countries.