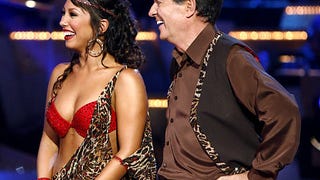 Magazines have Photoshop to give every body "perfect" contours. Television's secret weapon? Spray tanning. The Wall Street Journal visited the sets of shows like Dancing With The Stars and American Idol and found some, um, local color.
Texas gal Renée Zellweger will spend the holidays in Philadelphia with Bradley Cooper's parents. Sounds like the plot of a romcom. But it's real! [NY Daily News]
Justin Timberlake's grandmother has confirmed his split from Jessica Biel. Sadie Bomar says they broke up because, "Jessica was keen to marry, but Justin isn't ready..."
While filming a movie in London, a female fan snuck past security guards and climbed into the back seat of a car with Colin Farrell. A source says, "Colin went crazy and started screaming like someone had shot him..."
Look! There on her arm! That's not a bruise, it's a tattoo! ZOMG, can you even be a Senator with a tattoo? Can two strong women work together at the State Department without a catfight? Was it ever possible that power would not corrupt powerful Ways and Means Committee Chairman Charlie Rangel? Can the Huffington Post…
One of the cool things about writing for a "women's" blog that actively rails against the ghettoization of women's voices in the "women's" media is that it gives me the only excuse I can really think of to draw your attention to the work of a woman journalist who has succeeded in resisting said ghettoization, the New…