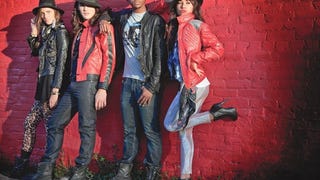 Jackie, Tito, Jermaine, Marlon and Randy Jackson — and their late brother's estate — have an apparel line under the Jackson 5 name hitting stores in February. It naturally includes a version of the "Thriller" red leather jacket. [WWD]
If the Jonas Brothers seemed distracted when presenting on stage at the Grammys, it's because Lady Gaga and her enormous 3D glitter ice floe Snow Miser outfit were being seated. [CBS News]
Last night's premiere of The Jacksons: A Family Dynasty was pretty boring, as any Jackson family entertainment excluding Michael and Janet (or for me, La Toya) goes. But it did shed light on how shameless, moody and attention-craving Jermaine is.
After shooting a fight scene for The Bounty, a source says Jennifer Aniston and Gerard Butler were "lovey-dovey" and "we saw him give her a little kiss." He was also throwing peanuts and popcorn in her mouth. [Radar Online]
According to this report, Mischa Barton was taken from her home last week because she was so high on coke friends were afraid she was going to kill herself. [NY Post]
Does Daniel Craig have a tattoo on his magic stick? He told Jay Leno: "I have a couple of tattoos where you'd see them. There's another where you wouldn't. It's hidden away."