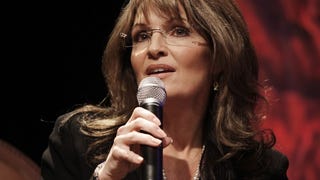 Despite the fact that Sarah Palin did not hold public office at any point in 2010, she resolutely refused to go away. Let's take a look back at her book-pluggin', fish-clubbin', common-sense-defyin' year.
Fuck 2010. This year fucking sucked.
Fuck the February Snomageddon and fuck the December Snopocalypse. Fuck people being shocked about a fucking killer whale fucking killing someone at Sea World. Fuck the earthquake in Chile, fuck the mine exploding in West Virginia, fuck the fucking TSA getting all up in…
There were literally dozens of oddly digitally altered models and celebrities this year, with a swipe of the mouse resulting in wonky elbows, whittled waists, new hands and unnaturally lightened skin. Here we have the very worst.
Loopy, aging stars, Martha Stewart's sex sounds, and inappropriate father/daughter relationships made it on 2008's 10 best talk show moments. (Spoiler alert: there's not a paternity test result in the bunch.)
Urinary Tract Infections, abusive husbands and "marginal people" are just a few of the best Judge Judy moments of 2008.
There's no adequately poetic way to put this, so I'll just jump right in: Jennifer Gerson is leaving us at the end of this week. Jennifer, as some of our old-timers know, has been with the site since virtually the very beginning: In early February 2007, she answered an "ad" I put up on our brother site, Gawker,…
New to Jezebel? (Speaking of, whatever happened to that commenter?) In honor of 2008, we're providing a handy list of the most-read stories from 2007. What defined the year in women, at least on this site? Well, for starters: society's fucked-up standards of beauty, Tyra Banks, and the American Titocracy that is Paris…