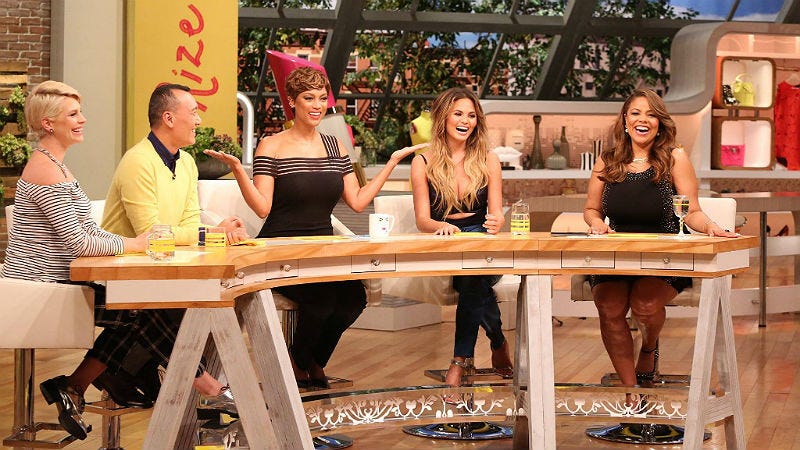 FABLife, the embattled talk show that lead host Tyra Banks quit last year, has officially been cancelled. What will you click past in the afternoon now?
Rachel Dolezal and her new lace front wig appeared on The Real Monday in what I pray is not the beginning of an apology press tour. She spouted much of the same asinine rhetoric that she used when her story first broke this summer, but finally straightforwardly admitted what we all already know: homegirl is white.
In a moment reminiscent of (but far less understandable than) when the Tyra Banks got her audience riled up over free Vaseline, here's a clip of the hosts of The Real getting their audience real riled up over some free feminine hygiene products.
To use the friend analogy: The Real is that friend you'd rather ignore who ends up being sort of entertaining. You're more than likely to wince through a full episode. It's as "not great" as it is "not awful." And the majority of the reactions I've seen have been tepid or apathetic at best. Which is why it's so…
Fox has picked up the daytime talk show The Real for a full-season starting in 2014. The show is lead by hosts Tamar Braxton, Loni Love, Adrienne Bailon, Jeannie Mai and Tamera Mowry-Housley and is different from other talk shows, a press release claims, because "each of the five hosts is admittedly a 'work in…
Radar Online is reporting that Kris Jenner's talk show Kris has been cancelled, despite the Kanye-induced headache she offered up to America last week on a silver platter. A source says that the ratings were "abysmal", which is good news for The Real, another show getting a test run from FOX that will probably get…