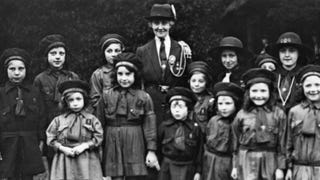 Girl Guides, the rest of the world's version of Girl Scouts, were always fascinating to me. As a 12-year Girl Scout who stuck with it until senior year of high school (I sold Thin Mints out of my locker and in the school parking lot. What of it?), Girl Guides were the Annie James to my Hallie Parker: basically the…
Any Royal-watcher prepared to rejoice (?) at the prospect of friending the Royals had better moderate his expectations. Buckingham Palace's new Facebook page is more "autocratic" than "social."
In a shocking turn of events, Julia Roberts was airbrushed down to her (now disappeared) pores for her first Lancôme ad. [Daily Mail]
Jon Gosselin has been hanging out in the Hamptons with Star reporter Kate Major. At the home of Michael Lohan. "Jon and her are good friends," Lindsay's dad says. [E!, People]
One of Annie Leibovitz's Louis Vuitton ads with astronauts Sally Ride, Buzz Aldrin, and Jim Lovell is out. (Gorby was busy that weekend.) [WWD]
Well done Helen Mirren for destroying the oppposition (we just don't WARM to Cate Blanchett, somehow) and winning a BAFTA for best actress in The Queen, which we totally really will get around to watching sometime. Probably on an airplane.