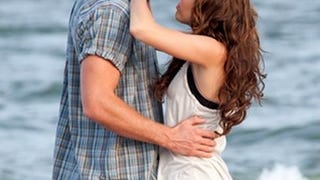 Last week, Us Weekly declined to publish a photograph picturing Jesse James doing a "Heil Hitler" gesture. But this week, guess who's running the picture?
David Germain of The Huffington Post calls Nicholas Sparks the "melodramatic machine." Machine's a good word, because it seems like he churns out dreck at an alarming rate. Worse, there's some kind of unspoken understanding that women like this crap.
Doesn't it seem like Dear John came out, like yesterday? Whatever, The Last Song is here now! And whether or not Nicholas Sparks' shmaltz will leave you weeping, Miley and co's clothes? Certainly will.