Growing up can be a bit of a bloodbath for everyone, regardless of gender. And when it comes to how the actual gory details of the process are portrayed on film, young female characters don't often get the same freedom to explore the dark side of the process that young men do, unless you happen to be watching a…
Anaheim, Jan. 15: Actress Fairuza Balk attends the 2011 NAMM Show - Day 4 at the Anaheim Convention Center.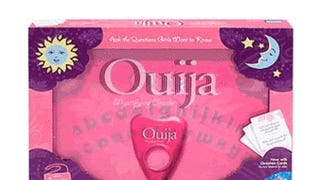 According to Stephen Phelan of Human Life International, Hasbro should be ashamed of itself for marketing Ouija boards to young girls, as "the Ouija board is actually is a portal to talk to spirits." And a pink portal, no less!
Some scholars think that within in the half-century of active witch-hunting, as many as nine million people, mostly women, were executed, and countless more tortured. At the height of the craze, "witches" as young as seven were killed; in other cases they were forced to watch their mothers burned alive. The last…