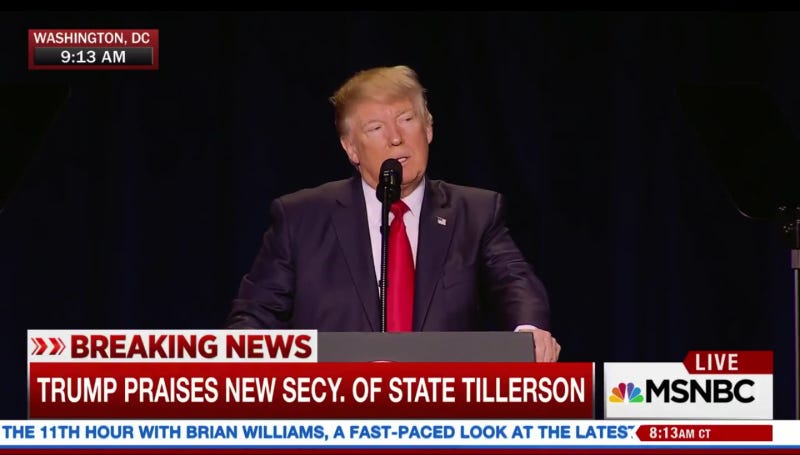 Donald Trump, a noted fan of Jesus and all his works, whatever they were, was at the National Prayer Breakfast Thursday morning, a solemn event that our nation's presidents have used for decades to display their piety. While there, he bragged that the ratings on The Apprentice totally suck now and sarcastically asked…
Back in October, an Apprentice producer let on that tapes exist of President-elect Donald Trump using the N-word and other racial slurs. The story's source, Chris Nee, claimed she'd only ever heard such footage exists and that a $5 million penalty fee hangs over the head of anyone planning to leak it.

Early next year, NBC's Celebrity Apprentice will return to television with a new host—former Governor Arnold Schwarzenegger, appropriately enough. Donald Trump will retain his executive producer credit on the series, Variety reports, and will be paid through MGM, the show's production firm.
Apprentice creator—and arguably, by extension, Donald Trump creator—Mark Burnett, who denounced Trump's presidential campaign in October but claimed he was legally bound against releasing potentially damaging footage from the set of The Apprentice, has reportedly turned quite a corner.
On Sunday afternoon, business heavy-hitter Martha Stewart stated in no uncertain terms that she will vote for Hillary Clinton in November.
Earlier this week, Vladimir Potanin bought Ford Models. But just who is this billionaire oligarch, media mogul, mining tycoon, philanthropist, and ex-politician? And what's the deal with Potanin's former partner and that whole prostitution-ring scandal?
According to a new study, reality shows involve more cruelty than fictional TV shows.
We were feeling kinda blue today. Then we saw this. [Boing Boing]