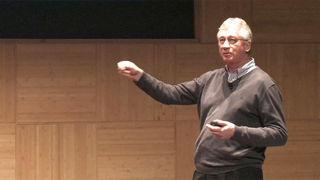 Earlier this month, TED posted an excerpt from a recent talk by Dr. Frans de Waal, a Dutch primatologist and ethologist. He has in the past performed a number of studies examining primate social behavior, particularly regarding empathy and cooperation.
Have you seen Magic Mike, the movie about Channing Tatum's ass and feelings? How about Ted, that movie about Mark Wahlberg and the talking bear that makes plushies and furries really excited? Your answer may indicate not just your gender, but where you're from. One movie did well on the blue pinot noir drinking cheese…
Jennifer Aniston continues attempting in vain to make everyone feel OK about her awesome, independent, filthy-rich yet somehow still pretty likeable perma-playtime sad, unwedded, spurned, childless existence in an interview with GQ Spain: "'A perfect life?' I think that's sort of cliché, isn't it?. Like, if you want…
Katy Perry — now dating Ghostbuster Dan Florence + The Machine guitarist Robert Aykroyd — is taking a break from showbiz after her doc Katy Perry: Part Of Me is released, in order to let her heart and/or cupcake boobs heal after Aldous Snow poured Malibu rum all over them and devoured them en flambé. If she spends…
In this week's pop culture round-up, Jimmy Fallon gives Tim Tebow some Ziggy flavor, Leslie Knope's campaign for City Council is off to a rough start and The Daily Show gets a new correspondent.
Do you want to lobsterate your meal? New Senior Political Analyst Jessica Williams doesn't even get to unpack…
Kavita Ramdas: "Unlike almost every other social movement, [it's] not a struggle against a distinct oppressor...It's against a deeply held set of beliefs and assumptions...This is the ultimate gift of feminism, that the personal is in fact the political." [Ted]
"The verb that's been enforced on girls is to please. Girls are trained to please...I want us all to change the verb. I want the verb to be educate, or activate, or engage, or confront, or defy, or create." [TED]
Sociological Images just reposted a TED talk on girls and gaming by Brenda Laurel, founder of Purple Moon. And I have to admit, watching that video made me wince.
Hillary Clinton has not agreed to be Obama's Secretary of State even if she is officially offered it. [Politico]
She has, however, been asked to head Ted Kennedy's health reform task force next year. [The Hill]
Mr. Jowls will remain the Chairman of the Committee on Homeland Security. Jane Hamsher and others say, in so…
Officials are confirming that Hillary Clinton met with Barack Obama in Chicago to talk about a potential Cabinet slot. Two "senior Democratic officials" confirmed to the Huffington Post that Clinton was offered Secretary of State and asked for time to consider it, but she didn't admit to anything at a press…
Oh, good God, it's early here in Denver and it was a late night last night but
Spencer
and are dedicated servants, so we dance, bitches, dance for your amusement despite the fact that we both think it might be sort of okay to die this early in the morning. After the jump, we talk about the parties, condoms, the…