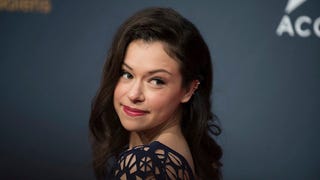 At the New York Times Magazine, Lili Loofbourow's written a great profile of Orphan Black's Tatiana Maslany, otherwise known as the most chronically underrated actress on prestige TV.
Orphan Black returns April 18 on BBC America as the little show that could with one of Hollywood's most underrated actresses, Tatiana Maslany. I, for one, am thrilled that Sarah Manning, Cosima, Alison, Helena aka "Sestra" and Rachel are all back for another ride with the clone club that seems to have expanded to…
Orphan Black returns to our TV screens on April 19th and it looks like this season is going to be amazing. The season follows the clones (the wonderful, wonderful clones!) as they try to get to the (surely fucked up) bottom of their mysterious roots. Cancel all appointments and bust out your popcorn because it's.…
I've been waiting for this since I first heard the news that our favorite clones would be hitting primetime!
Tatiana Maslany — who is beyond brilliant as clones trying to make it in a non-clone world on BBC America's Orphan Black — has booked a two-episode arc on NBC's Parks & Recreation as Tom Haverford's love interest. It would be so awesome if she played the clones, because I have a feeling they might be the ladies to…
The first season of Orphan Black, BBC America's cloning conspiracy thriller, comes out on DVD this week, and everyone who hasn't watched it yet needs to pick up the discs and start binging now. Over just 10 episodes, Orphan Black has become our newest scifi obsession, and here's why.