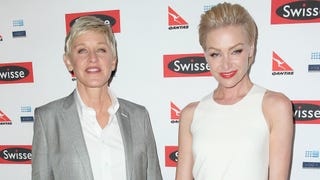 They've said it before, but naturally people keep asking them, so Portia de Rossi and Ellen DeGeneres will say it again. They are not having kids. Don't want them, don't need them, it'll be just the two of them and their adorable seasonal wardrobes. Thank you, come again.
A poised and hella grown-uppish Prince Michael Jackson has landed a job as a special correspondent for Entertainment Tonight, a pretty impressive gig for a 16-year-old although though my impulse is to yell at him to stay the fuck away from show business and go work at the Dairy Queen like a normal teenager because I…
Rihanna, God of Patron Shots and Cigarette Butts and Hangovers and General Chaos, almost got thrown out of a London nightclub after she supposedly jumped on a glass table, fell, smashed it and then started screaming "Don't you know who I am?" when the doorman started kicking her out (which undoubtedly sounds less dick…
Alicia Keys and Swizz Beatz welcomed a baby boy into the world on Thursday and named him Egypt Daoud Dean. [Reuters]
Oksana Grigorieva says she turned down Mel's $15 million because it entailed agreeing to a clause that gave him unsupervised visitation with their daughter. "I'm fighting for the life of my child," she says. [TMZ]
Lindsay Lohan will finally have to answer for her behavior on that wacky night in 2007 when she stole a car, ran over a guy's foot, and was arrested with a baggie of coke in her pocket (allegedly, natch).
Director Roman Polanski has been arrested by Swiss police, at the request of the United States, after he tried to enter Switzerland to attend the Zurich Film Festival, where a tribute to his work is taking place. [CNN]
"If I were writing a letter to Sarah Palin it would be a lot of whys and hows. Who are you? Do you know? Why do you hate animals? Please point out Iraq on a map… This woman hates women. She is not a feminist. She is not the woman that's going to come behind Hillary Clinton and do anything that Hillary Clinton would've…