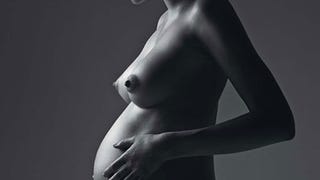 Miranda Kerr was photographed nude at six and a half months pregnant by Patrick Demarchelier. She told W magazine she realized she was knocked up the day she shot her Jil Sander campaign. Full pic below. [Fashionologie]
Want free jeans? Don't mind handing a corporation access to your personal data and real-time location? Gap will give away 10,000 pairs of jeans to Facebook fans who "check in" to its stores on an as-yet-unannounced date tomorrow. [Fashionista]
Anna Wintour heard about this so-called "environmentally friendly" fashion, so she sent her crack team of stylists to go out find some of it, to put it in her magazine. Her very eco-friendly magazine. The result? $2,895 trench coats.
We all know the true cost of an H&M synthetic sweater is not reflected in its $29.90 pricetag. The fashion industry is a tremendous generator of waste, and it has a nasty habit of treating garment workers as disposable labor.
One woman has pledged to wear a single dress for one year to show how far a little creativity can go towards helping the planet. So, how's that working out for her?
Rachel Zoe is getting her own reality show on Bravo, set to air in either June or September of this year. The show promises to bring a much-needed behind-the-scenes glimpse of the secretive world of helping celebrities shop by following one of its most obscure-yet-fascinating practitioners as she goes about…