Happens to the best of us!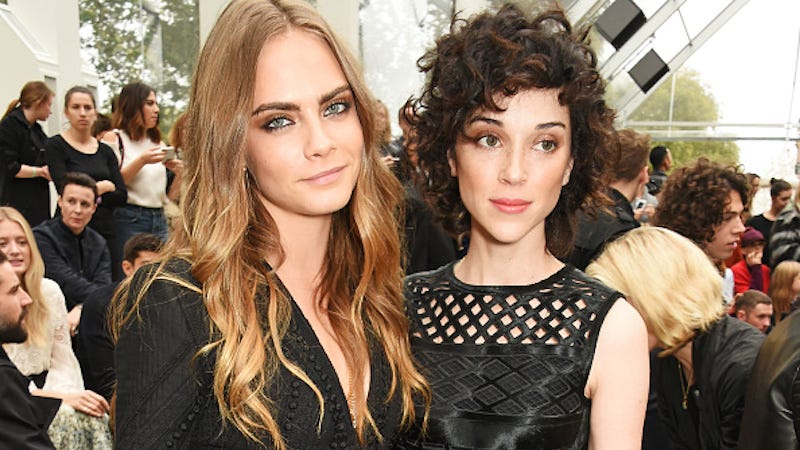 My friends, today I stumbled across a nugget of extremely distressing gossip. The New York Post surmises, from a collection of photographs, that model and Swifty Squad member Cara Delevingne abandoned her lover Annie Clark—otherwise known as ethereal songstress St. Vincent—at Monday's Chanel show in Paris, departing…
In a recent interview with Vogue, model Cara Delevingne talked about depression, her mother (a longtime heroin addict), and her relationship with musician St. Vincent, a.k.a Annie Clark.

St. Vincent appeared on The Tonight Show last night to perform her new single "Teenage Talk"—which debuted during the credits of Girls back in March—with the help of a group of female teen backup dancers.
Supermodel-turnt-actor Cara Delevingne has been working with Pharrell on an album (of music!) as of late, and Tuesday in New York at Karl Lagerfeld's Chanel Métiers d'Art presentation, the duo debuted the fruits of that labor. She has nice tone but um, this clip is a tad pitchy, if you will. And because of that: on a…
Last night during the credits of Girls, the show debuted St. Vincent's "Teenage Talk," one of multiple songs written specifically for this season of the series.

Last Thursday, singer/songwriter/master guitar shredder/David Byrne collaborator/all around badass talent Annie Clark (better known as her stage name St. Vincent) released her fourth studio album. The self-titled piece is whimsical and eloquent, an intensely calculated noisy St. Vincent standard. It may or may not…