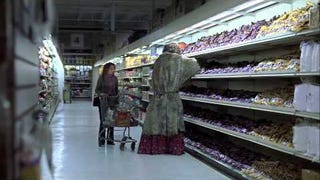 This Halloween, Snickers takes a page out of Burger King's Guide to Creepy Masked Mascots with the bizarre, disproportionate "Snickers lady," a grocery-store apparition who is all sorts of weird. Cue nightmares.
This commercial is cute, but if not eating Snickers bars will turn me into Aretha or Liza, I'll avoid them like the plague. [La Daily Musto]
It's long, slim, brown and beige and you put it in your mouth. The advertising slogan is "Pleasure Yourself." It's called a "Fling." The word "finger"is used. It's a candy bar. For women. [NPR]
[Sydney, July 24. Image via Bauer-Griffin.]
We really are in a recession.