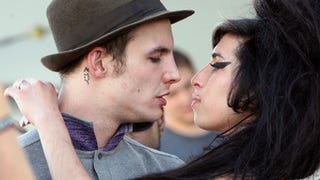 A London man found the album from Amy Winehouse's wedding to Blake Fielder-Civil in a dumpster with some photos torn out and Amy's beehive colored in.
Is Ashley Olsen getting married? The National Enquirer thinks so. It'll happen on the French Riviera next summer; she wants Karl Lagerfeld to make the dress and Annie Leibovitz to take the pix. Oh, the hubs-to-be is boyfriend Justin Bartha. [Daily Express]
Ryan Reynolds ran the NYC marathon! His time? 3 hours and 50…
Poor Britney and Lindsay! Probably the only thing worse than the whole world knowing you're a drunken cokehead slattern, is having a drunken cokehead slattern stand up for you.
Lindsay Lohan may have thought she was hot stuff when she got a "chipped manicure" to give her a rocker-girl chic look, but Sienna Miller is taking this season's black nail trend to a new level. The Factory Girl actress was spotted with a bashed black thumb at New York's JFK airport when she was yapping in the…