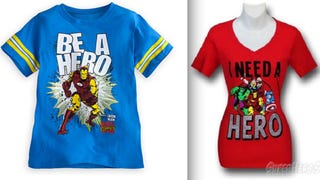 They may be Earth's mightiest team of superheroes, but the Avengers' most impressive power appears to be their complete lack of foresight that these hella sexist T-shirts maybe, MAYBE, just might get some flak.
The Portland Thorns, a professional women's soccer team fighting for market share in a city where the official pastime is food truck scavenger hunting, caused quite a Facebook kerfuffle among soccer fans who thought punny new fan t-shirts emblazoned with "Feelin' Thorny?" were, oh, what's the word...sexist. In…
Much unlike many a magazine editor who recommends you buy all sorts of crap that they most likely got for free, your Jezebel staff doesn't get jack shit (other than books, unsolicited). And that's how it should be. But on our own time, in our personal lives, we still buy stuff. So this is Worth It, our daily…
D.C.-based entrepreneur Rochelle Behrens has created "the Shirt," a button-down shirt that eliminates "blouse gape" by featuring stealth buttons placed between the other buttons. No more safety pins! No more embarrassing bra exposures! With Oprah on board, business is booming.
Apparently the LA Times (in 1971!) wanted to shield readers from the moral degradation brought on by gazing upon the naked chest. Solution: draw a shirt! But clearly the "artist" was on a tight deadline. [Sociological Images]