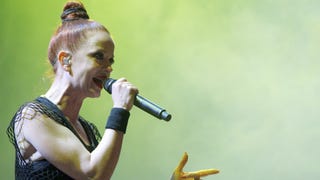 Shirley Manson, lead singer of the pride of Madison, Wisc., Garbage, recently had a tête-à-tête with actress/comedian Aisha Tyler on Tyler's podcast Girl on Guy, offering some insight into her first band, what famous people are supposed to smell like, how cruel the press can be, and Jennifer Lopez's effulgence.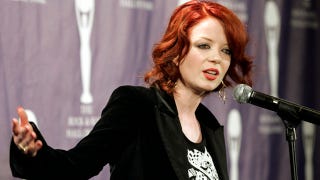 This flame-haired rocker sang "Only Happy When It Rains," so she may be having a very happy birthday weekend. As for the rest of you, if you live on the East Coast of the United States, we hope you're all stocked up on "peanut butter, batteries, and raisins," which is what my mom told me to get this morning (sounds…
In fairness, plenty of the stars at PETA's 30th Anniversary Gala — Lea Michele, Eva Mendes, Jena Malone — looked fab. But the others packed enough of a punch to give "radical chic" a whole new meaning.
Does Jay-Z reference Anna Wintour in his song "Empire State of Mind"? The line in question is: "caught up in the in crowd/now you're in-style/and in the winter gets cold en vogue with your skin out." [Fashion Week Daily]
When Craig Ferguson and fellow Scot Shirley Manson get to talking, the accents are awesome and the jokes fly. I could listen to Shirley say "the reour of the cryoud" over and over! Anyway:
Tina Turner vs. Aretha Franklin! Last week, Tina was asked to comment about that moment when Beyoncé called her "The Queen" during the Grammys, and Aretha got upset. Tina said: "[Aretha's] the queen of soul, and I'm the queen of rock 'n' roll. There were so many kings and queens there that night. Her ego must be so…
[Los Angeles, September 11. Image via Flynet]
The FBI has "recovered" jewelry given to Anne Hathaway by Raffaello Follieri. Meaning she gave it up. Two Rolex watches, rings, necklaces, and bracelets. There is no value given yet but every time the paperwork says "clear stones" you can bet that they're talking about diamonds. Sigh. [The Smoking Gun]
Rosie O'Donnell…