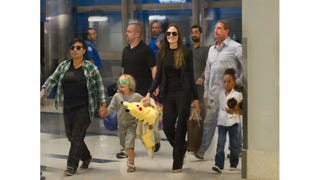 [Shiloh's shades! Click to enlarge. Additional shot below. Los Angeles, July 20. Images via Bauer-Griffin.]
[Tokyo, July 25: Stylish jet-setters hit the airport, setting off an international squee. Image via Splash.]
In the new issue of Vanity Fair, Angelina Jolie talks about acting, family, Brad Pitt and, of course, daughter Shiloh and her penchant for masculine fashion.
Welcome back to Midweek Madness, where we parse tabloid punditry so you don't have to. This week marked a slight departure in tabloid fare, as Us featured potential President and First Lady Barack and Michelle Obama on the cover. Don't let it throw you; the other tabloids covered all the usual players, with In Touch, …
Jessica Alba is pregnant! The father is boyfriend Cash Warren. Congrats? It's kind of worrying that they're on-again-off-again, sigh. Good luck, kids. [People]

Geri "Ginger Spice" Halliwell supposedly pointed to Victoria" Posh Spice" Beckham's tummy during a show and allegedly said, "She's pregnant." Hahahahahaha,…
Welcome to Midweek Madness, our weekly binge on the sort of celebrity content we usually try so fastidiously to avoid every other day of the week. In which we "read" the Wednesday tabs. So you don't "have" to.
This week — in part to protest the media dominance of properties in the ongoing saga that is the life of a…
Welcome to Midweek Madness — our weekly gagazine fest with Intern Maria, who always wears cute outfits and makes us scared to leave the house looking like we do —in which we "read" the weekly tabloid magazines. So you don't "have" to.
In this edition of Midweek Madness, and duke it out as to who Shiloh resembles…